12 Pieces Lock Pick Set with 8 Pieces Tension Wrench Kit, Lock Pick Gun and Transparent Practice Padlock
$ 28.99
Professional Lock Pick Set: This lock picking training set includes 12 lock picks, 8 pieces tension wrenches and 1 black leather bag, which can help you become professional locksmiths.

High Quality Lock Picks: All picks are made of smooth and high quality stainless steel for a long time. Professional metal handle for comfortable touch, never deformed and broken.

Transparent Lock Design: Know exactly what your are doing during lock picking with the transparent padlock. See clearly how the mechanism works. It gives you indications for the techniques required for lock picking. Great for beginners and to learn lock picking.

Premium Lock Pick Gun Set: It comes complete strong lock pick gun with 4 pick blades and 1 tension wrench. The lock pick gun has a very strong spring which could easily pick pin tumbler and disc tumbler locks.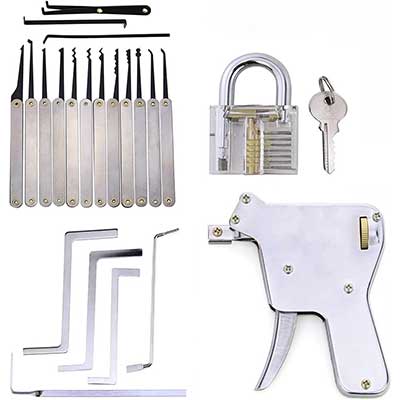 12 Pieces Lock Pick Set with 8 Pieces Tension Wrench Kit, Lock Pick Gun and Transparent Practice Padlock
This lock pick set is a convenient locksmith tool for you and it suits for both daily life use and professional lock smith, or lock pick beginners training's need. You can use this tool to unlock different types of pin locks.

Package Included:
1 x Lock Pick Gun with 4 Blades and 1 Tension Wrench
12 x Lock Picks and 8 Tension Wrenches
1 x Transparent Practice Padlock with 2 Keys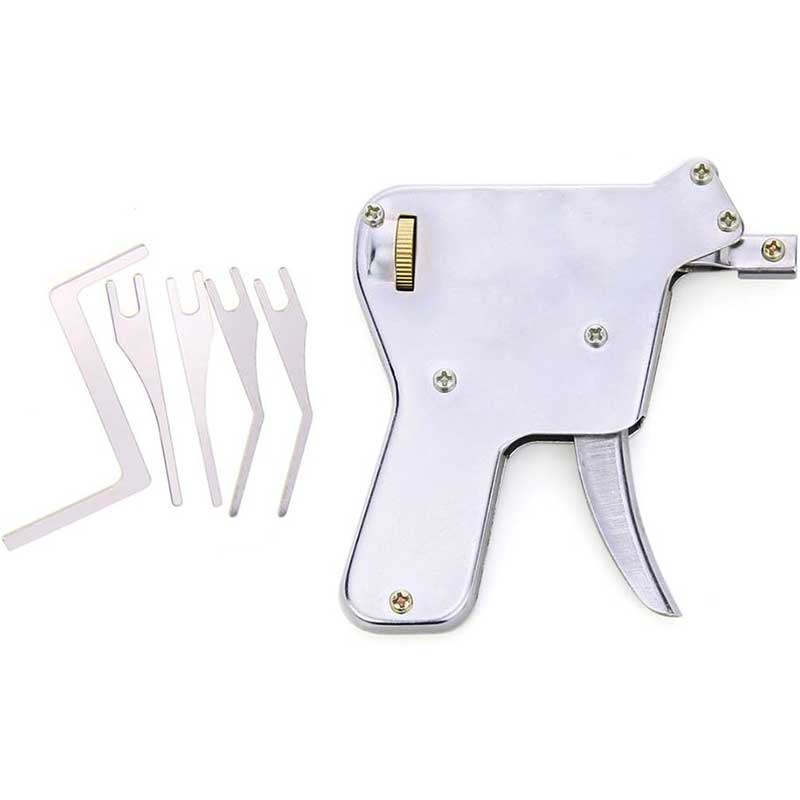 Lock Pick Gun Set
The lock pick gun kit can be used to open most pin locks, double track locks. There is a powerful spring that makes it easy to open the needle and disk drum locks to unlock the stuck door. This will save you a lot of time without waiting for the locksmith to arrive.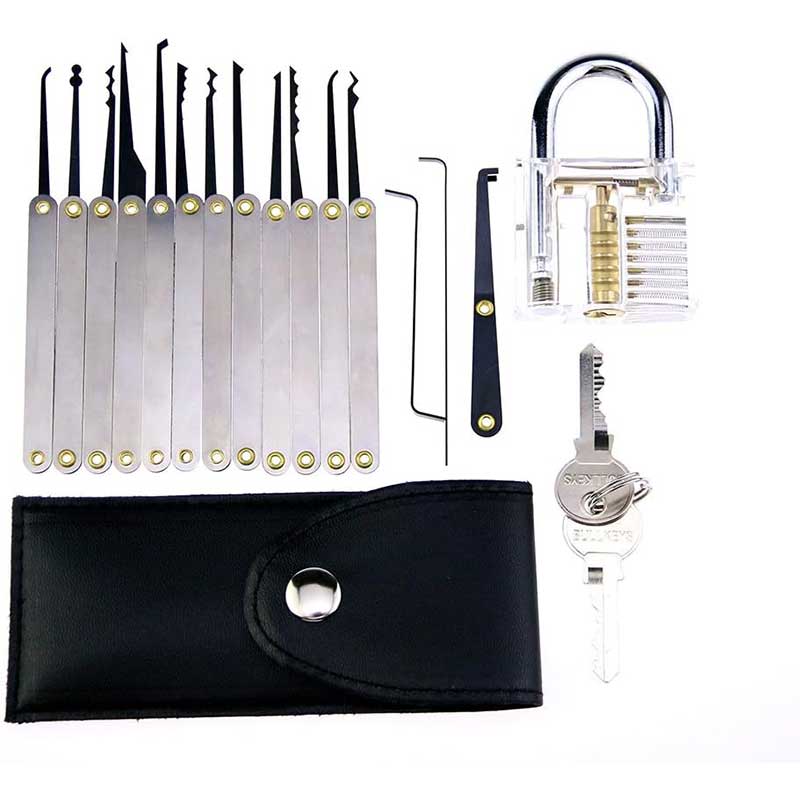 Useful Lock Pick Set
The hook of the tools is made of high quality stainless steel, that is hefty and solidly built. Vegan leather pouch contains 12 picks and 3 tension wrenches, and padlock neatly packaged in a durable case, it discreetly fits in your pocket or bag.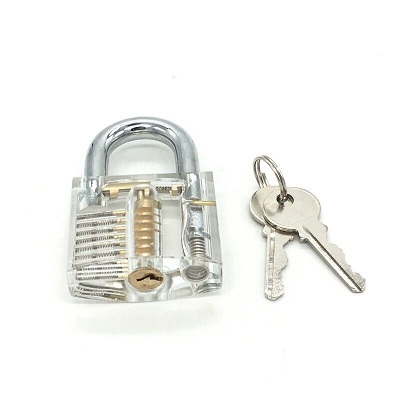 Transparent Practice Padlock
Transparent design allows you know exactly what you are doing when picking it. Clearly see how this mechanism works. It gives you an indication of the skill required to pick the lock.
THANKS FOR COMING TO LOCKPICKMALL
WRITE YOUR OWN REVIEW
YOU'RE REVIEWING: 12 Pieces Lock Pick Set with 8 Pieces Tension Wrench Kit, Lock Pick Gun and Transparent Practice Padlock
HOW DO YOU RATE THIS PRODUCT?