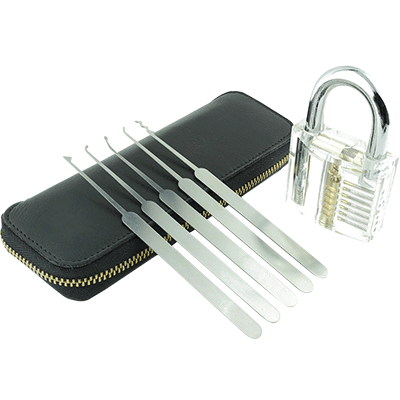 Beginner Lock Pick Sets
Lockpickmall carries many
beginner lock pick sets
. Whether you are a lock picking hobbyist wanting to learn basic raking or a student of the trade we have just the right lock pick set for you.
Our transparent cutaway locks allow you to view the lock's inner workings so that you can visualize exactly what you're doing once you move on to real-world locks. This
lockpicking starter set
is a compact way to practice picking locks of varying difficulty, allowing you to re-pin for continuous, self-adapted training.Our quick start guide helps you choose from the best sets that won't snap on you inside a lock mid-pick, won't cut your hands up while picking, and will be perfectly learner friendly!
Our
lockpick set for beginners
is that they should be professionally made, reviewed well by experts and/or hobbyists, contain everything you need as a learner, won't be so cheap that they snap off in your lock and that they'll be delivered to you within a few days once ordered.