15 Piece Lock Pick Set and Secure Pro Practice Padlock

46 reviews
$ 16.99
*See inner workings through clear shell

*Wide assortment of different lock picks

*Everything you need in one handy kit

*Store picks in handsome black pouch

*Includes two master keys, instructions
Craving a new challenge? Looking for an unforgettable gift?
Discover the art of lock picking with our complete training kit and amaze everyone with your skills!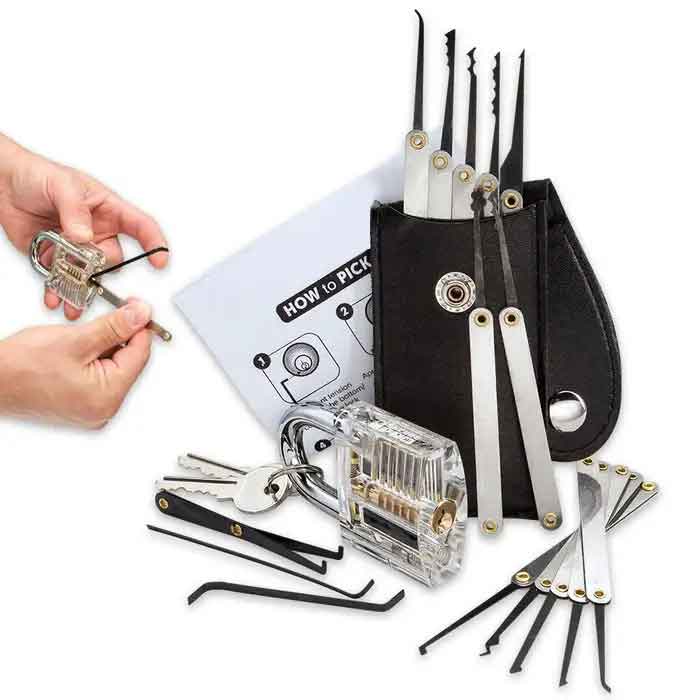 *See inner workings through clear shell
*Wide assortment of different lock picks
*Everything you need in one handy kit
*Store picks in handsome black pouch
*Includes two master keys, instructionsCombined with the wide assortment of picks in the 15 piece lock pick set, the kit also affords a chance at trial-and-error with no problematic consequences, before you attempt to tackle the genuine article. Whether a beginning lock picker or a veteran locksmith, everyone needs practice, and secure pro's practice padlock and 15-piece lock pick set is a great way to learn and hone your skills. With its transparent shell, the easy-to-use practice lock allows you to see the inner workings of a standard pin lock and, thus, develop a greater understanding of its operation. Fear not! Everyone gets stumped, and if you find yourself hopelessly "locked out" of your practice padlock, this handy set includes two master keys, as well as simple, straightforward lock picking instructions. Also includes a handsome black faux leather snap pouch for storing picks.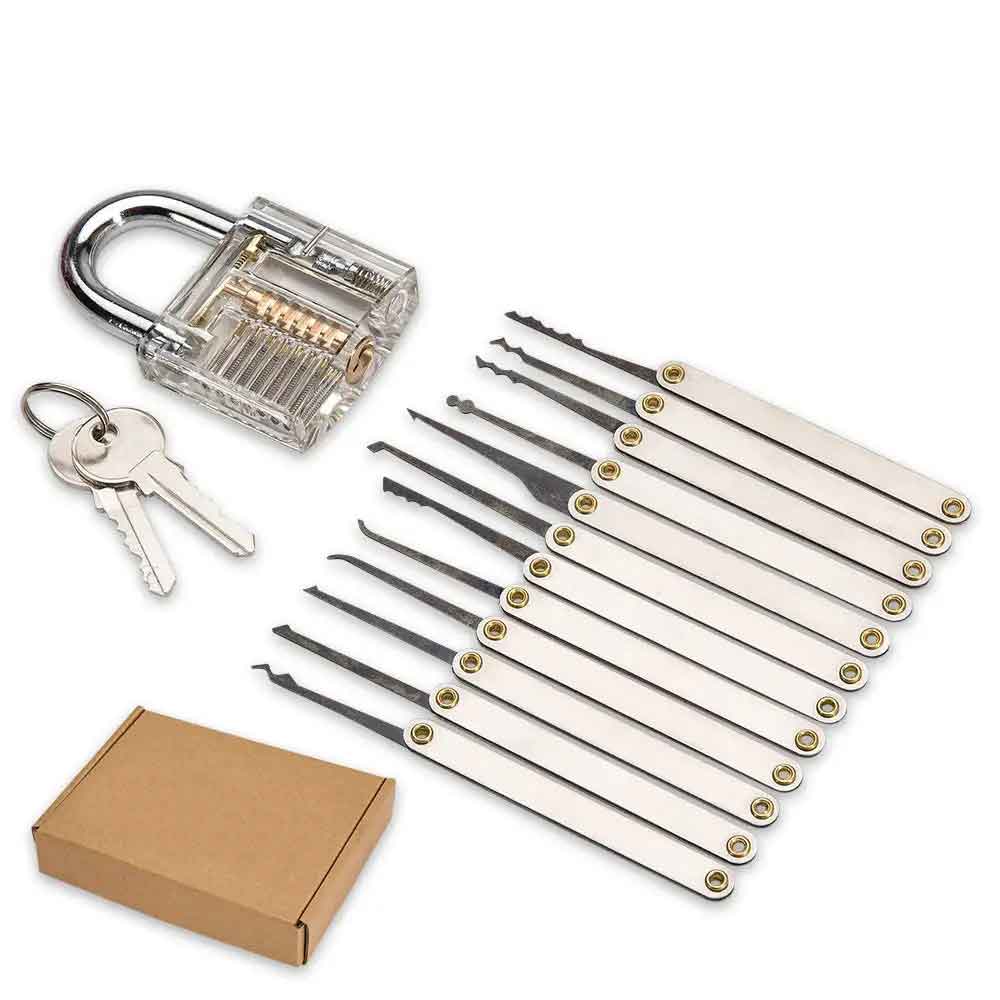 *See inner workings through clear shell
*Wide assortment of different lock picks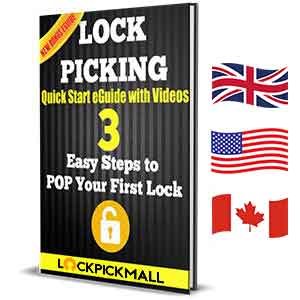 Beginner guide(Download Now)
◆ Pick your first lock by following the step-by-step instructions in our Quick Start E-Guide.
◆ Easy to read, includes videos and illustrations to help you get started.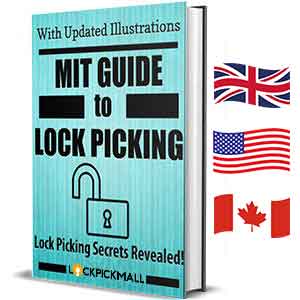 Advanced guide(Download Now)
◆ Dive deeper into the world of lockpicking with our second E-Guide.
◆ Learn the most advanced techniques that will help you pick even some of the most secure locks out there!
THANKS FOR COMING TO LOCKPICKMALL
WRITE YOUR OWN REVIEW
YOU'RE REVIEWING: 15 Piece Lock Pick Set and Secure Pro Practice Padlock
HOW DO YOU RATE THIS PRODUCT?
---
Onyony

13 Jul 2023

Highly recommend!

I recently got my hands on the Lock Pick Set, and I couldn't be happier with my purchase! The tools are of excellent quality, and the included guide has been a lifesaver for someone like me who's just starting out. I wholeheartedly recommend it. It's been a game-changer for me!

Emily Hill

01 Dec 2022

Very pleased with hassle- free prompt delivery;received lockpick set within days of ordering with regular shipping. Looking forward to never being locked out of the car or house again! My husband liked his birthday gift.

Beau

13 Jul 2022

Super quick delivery awesome tools would definitely recommend

Caius

07 Jun 2022

Naturally, now when I needed to, I couldn't find my old picks so I ordered the basic starter set thinking it would do the job for me. Sure enough, 20 minutes after opening the envelope, I also opened the door that caused me to order the set. Works great!

Bahar

21 May 2022

Calix

12 May 2022

good quality

These picks are excellent!

Arno

06 May 2022

Callum

25 Apr 2022

best lock picking set

THESE picks are really beautiful and super-strong. First class all the way! I am really impressed; they are better than anything I've ever seen.

Ledger

09 Apr 2022

Terrific Pick Set to Round-Out Beginners Kit

I purchased this set in order to fill in a few blanks in my beginner's toolkit. This has all the best oddballs and utilities that a good beginner kit skips initially in favor of simplicity. I sure didn't need one for my practice lock, but I love that I now have a key extractor! These tools are as usual of fine quality, and worth the very reasonable price point.

Buck

06 Apr 2022

price is cheap

Super Selection of picks - and price was right!