24 Pieces Lock Pick Tool Kit and 2 Transparent Practice Locks

3 reviews
$ 22.99
Trembling the Locks: With 20 various picks of stainless steel handle and 4 different wrenches, the lock picking set can be used for many mortise locks. More than one skill to open your own house, warehouse, garage or tool box locks

Lock Pick Kit

: The high quality wallet-like lock pick toolkit can let you take and use it anywhere. It is a must for the beginner to be advanced locksmith. Suitable for the guys who like the 007 missions
Trembling the Locks: With 20 various picks of stainless steel handle and 4 different wrenches, the lock picking set can be used for many mortise locks. More than one skill to open your own house, warehouse, garage or tool box locks
Innovative Design: The practice padlock is constructed clearly and transparently. You can see all the movements of the pins and understand how a padlock works. So you can gain more experience and improve your skill with this lock pick set
Lock Pick Kit
: The high quality wallet-like lock pick toolkit can let you take and use it anywhere. It is a must for the beginner to be advanced locksmith. Suitable for the guys who like the 007 missions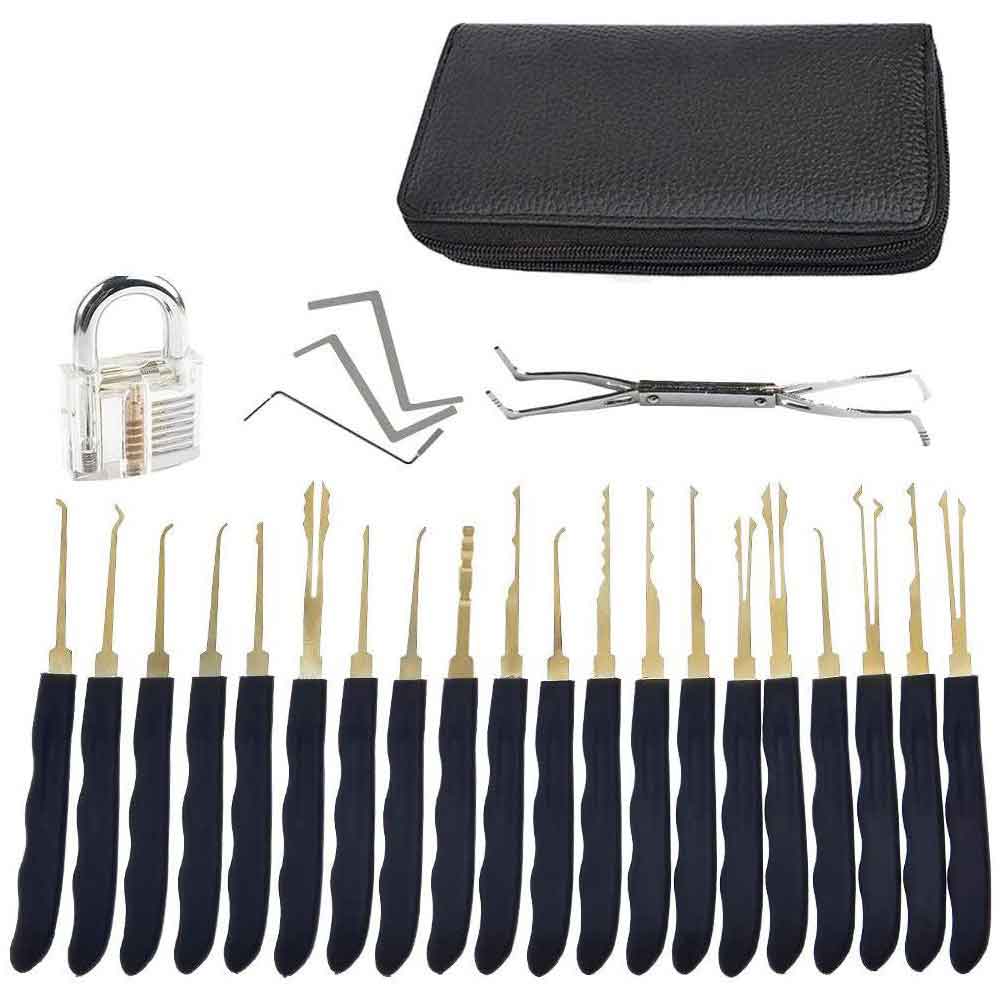 One More Living Skill: Follow up the guild we provided, practice the unlock skills with our lock picking tool day to day. You will be a good locksmith soon. You can help your friends if they need, or as a part-time job for a living
After Sales Service: Please contact us if you have any problems about our lock picking set. We'd love to serve you at any time.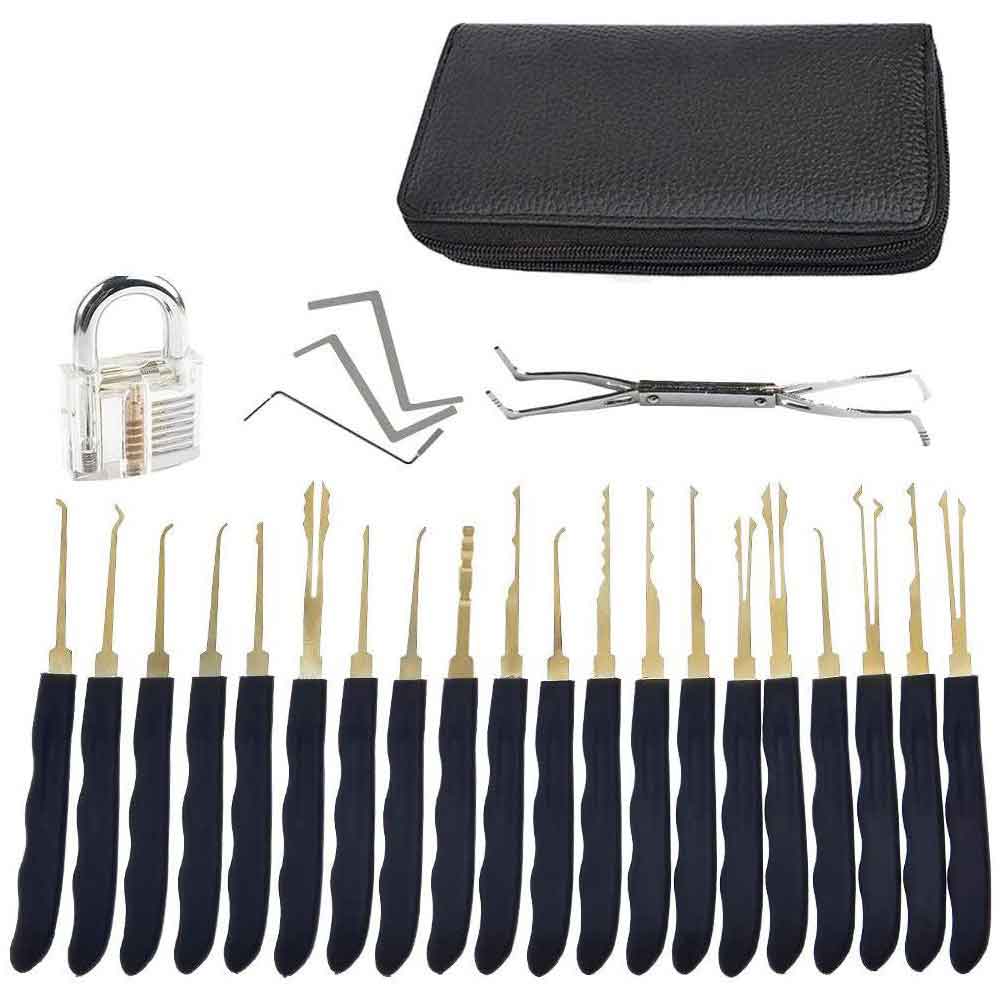 Why Chooses This Lock Pick Set To Customers?
Recently, one of our team members lost his house key which fails to go home. He had to call a certified locksmith for help and take a long time to get in house finally. Our team conducts a market survey and finds that there are also many people facing the same situation. So We decides to look for a solution and then select the Lock Pick Set. We'd also like to share this proven good product to the customers who need.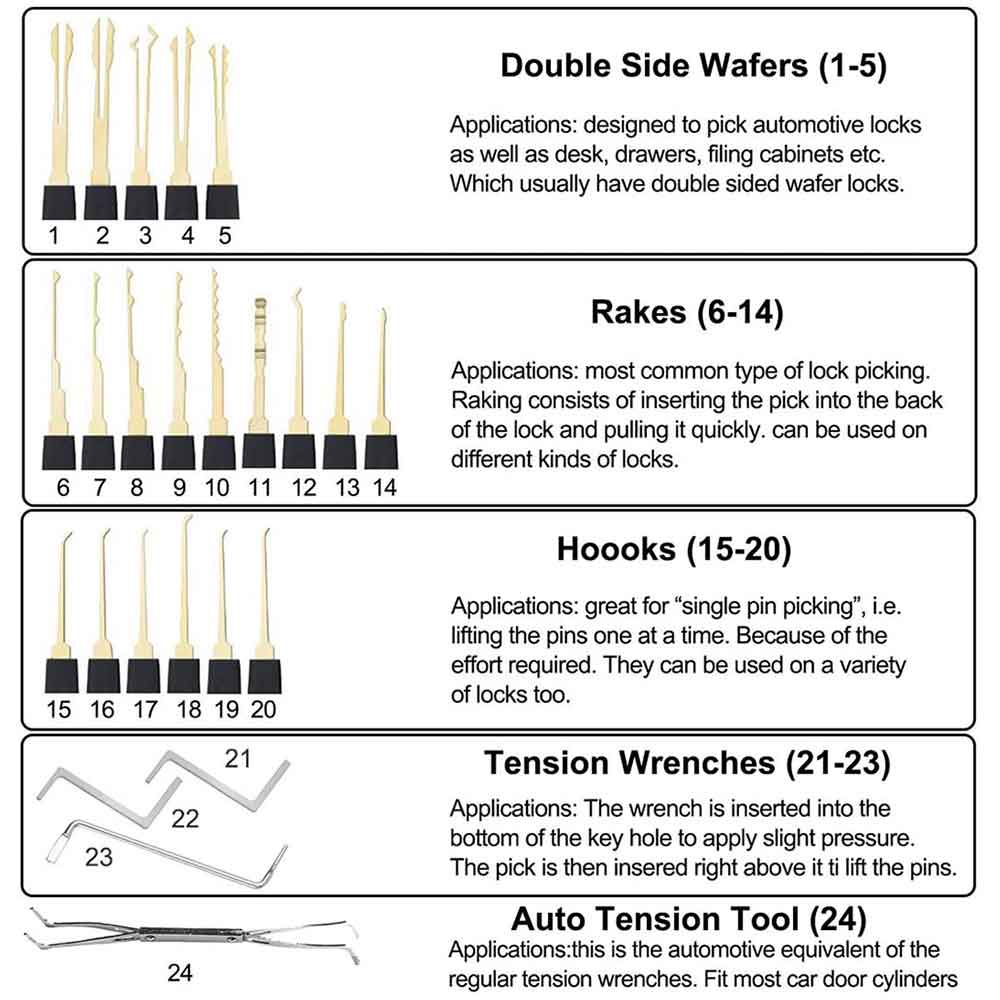 THANKS FOR COMING TO LOCKPICKMALL
WRITE YOUR OWN REVIEW
YOU'RE REVIEWING: 24 Pieces Lock Pick Tool Kit and 2 Transparent Practice Locks
HOW DO YOU RATE THIS PRODUCT?
---
Tom

27 Oct 2022

Good starter kits, helps me to learn the skilled art of lock picking

Giovanni

13 Jul 2022

First purchase from lockpickmall, very happy with speed of delivery and quality of items.

Lucas

06 May 2022

They look great. Haven't gotten to try them out yet but the products seems well made.