25 Pieces Lock Picking Kit W/3 Transparent Training Lock,5 PCS Credit Card Lock Picking Kit,17 PCS Stainless Steel Lock Picking Kit,Exercise Guide

530 reviews
$ 29.99
HIGH QUALITY LOCKPICKING SET: Our extensive kit contains professional locking tools with everything you need to practice and perfect your lock picking skills. From beginner to professional in a short time!
4 EXERCISE LEVELS: 3 transparent practice locks help you to understand different types of locks. Expand your skills and learn to pick different types of locks in 4 steps.
2 COMPREHENSIVE INSTRUCTIONS: We hope to help you develop from a complete beginner to an advanced blocker. 2 This manual and product video explain the working principles of locks and lock picking. Even without previous knowledge!
BONUS CREDIT CARD SET: Extremely light lock picking kit with the 5 most important tools in James Bond style, disguised as a credit card. Inconspicuous, fits in your wallet and is always with you!
LIFETIME GUARANTEE: We are proud of our lock picking sets and consider them the best. That is why we grant a lifetime money-back guarantee for anyone who is not 100 percent satisfied.
Craving a new challenge? Looking for an unforgettable gift?
Discover the art of lock picking with our complete training kit and amaze everyone with your skills!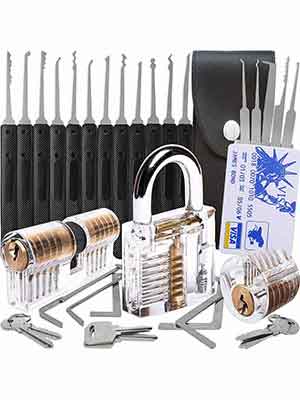 Everything You Need:

The Lockpickmall 20-piece lock picking kit includes everything you need to learn and master lockpicking: from a wide variety of tools to step-by-step easy to follow instructions. No prior knowledge required.
What You Get?
★ 17 Different Lock Picks
★ 5 Tension Wrenches (SUPER STRONG stainless steel wrench included)
★ 5-Piece Credit Card Lock Picking Kit
★ 3 Transparent Training Padlock With 2 Keys
★ 1 Vegan Leather Pouch
★ Beginner's Quick Start E-Guide "3 Steps to Pop Your First Lock"
★ Advanced E-Guide "MIT Guide to Lock Picking"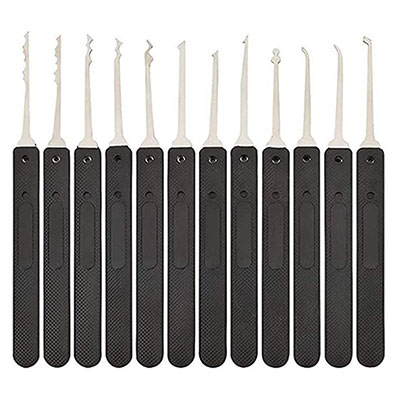 A Pick For Every Lock
◆ This set includes every pick you could ever ask for. With all this wide variety, you'll be ready for any lock that comes your way.
◆ We've also added a broken key extracting tool to help you get out of those common and costly accidents.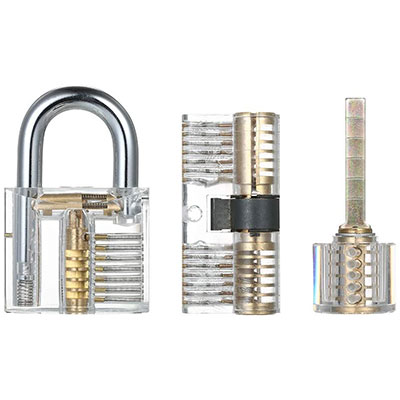 "Peek" Inside
◆ Understanding how locks work is essential before picking one. "Peek" inside the lock mechanism and see how everything works with our transparent padlock.
◆ It won't be long before you feel that incredible satisfaction as you pop it open before your eyes!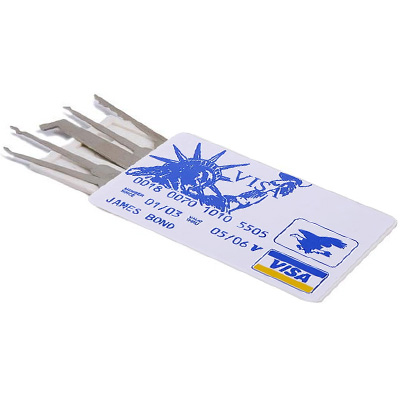 Be Prepared
◆ This ultra-portable lock pick kit includes 5 of the most essential tools.
◆ It discreetly fits in your wallet so you can carry it everywhere, perfect for emergency situations.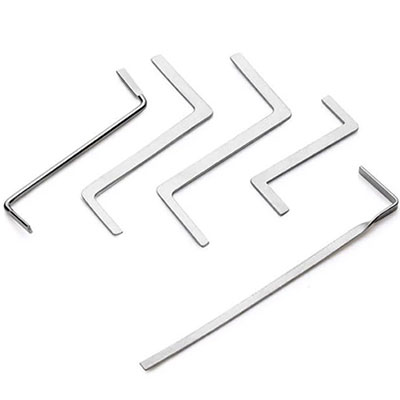 Super-Strong Tension Wrench
◆ We heard your feedback, and now we've replaced our previous tension wrench with a super-strong stainless steel one.
◆ No more worrying about breaking your most important tool!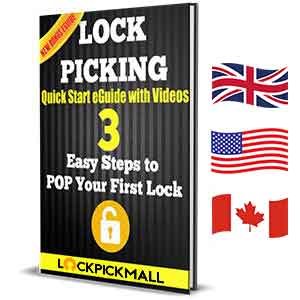 Beginner guide(Download Now)
◆ Pick your first lock by following the step-by-step instructions in our Quick Start E-Guide.
◆ Easy to read, includes videos and illustrations to help you get started.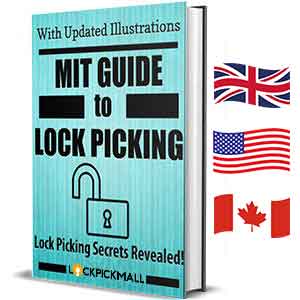 Advanced guide(Download Now)
◆ Dive deeper into the world of lockpicking with our second E-Guide.
◆ Learn the most advanced techniques that will help you pick even some of the most secure locks out there!

THANKS FOR COMING TO LOCKPICKMALL
WRITE YOUR OWN REVIEW
YOU'RE REVIEWING: 25 Pieces Lock Picking Kit W/3 Transparent Training Lock,5 PCS Credit Card Lock Picking Kit,17 PCS Stainless Steel Lock Picking Kit,Exercise Guide
HOW DO YOU RATE THIS PRODUCT?
---
Wilson

21 May 2022

Well worth the price

Opens most locks with ease once you practice a bit with it. Like any other tool, it requires some finesse and knowledge of how locks work in order to use it correctly. It is not a magical tool, but fantastic when you know what you're doing. Well worth the price!

Chris

16 May 2022

Quick response and shipping and I will buy more here.

Nohea

12 May 2022

best

Great value for money and quality is on point. picked a lock immediately on arrival. Can't complain for what I paid for them. Thanks

Felix

06 May 2022

best quality

have had a lot of sets in my life this was by far the most best quality built set I ever had thank you and your workers for craftsmanship wish I knew other items you build

Alan

25 Apr 2022

like this set

I really like this lock pick set. Tools are easy to use and will last me a long time.

Lipa

22 Apr 2022

rasp product goede kwaliteit .zou aanbevelen aan anderen

Rik

19 Apr 2022

Lots of fun

I am having way more fun than I thought I would. Some of the box was a little beat up in shipping, but the insides were fine!

Avery

15 Apr 2022

Great Practice locks

I received my locks yesterday and was very excited. I was able to open two of the three locks fairly easy but the one I'm needing the most cannot get to unlock was just wondering if there might be something wrong with that lock.

Aldrich

13 Apr 2022

nice set

very nice set. would highly recommend.

Mark

09 Apr 2022

Nice Set

The more I use these picks the more I like them. I like the price too.