25 Pieces Lock Picking Kit W/3 Transparent Training Lock,5 PCS Credit Card Lock Picking Kit,17 PCS Stainless Steel Lock Picking Kit,Exercise Guide

579 reviews
$ 26.98
HIGH QUALITY LOCKPICKING SET: Our extensive kit contains professional locking tools with everything you need to practice and perfect your lock picking skills. From beginner to professional in a short time!
4 EXERCISE LEVELS: 3 transparent practice locks help you to understand different types of locks. Expand your skills and learn to pick different types of locks in 4 steps.
2 COMPREHENSIVE INSTRUCTIONS: We hope to help you develop from a complete beginner to an advanced blocker. 2 This manual and product video explain the working principles of locks and lock picking. Even without previous knowledge!
BONUS CREDIT CARD SET: Extremely light lock picking kit with the 5 most important tools in James Bond style, disguised as a credit card. Inconspicuous, fits in your wallet and is always with you!
LIFETIME GUARANTEE: We are proud of our lock picking sets and consider them the best. That is why we grant a lifetime money-back guarantee for anyone who is not 100 percent satisfied.
Craving a new challenge? Looking for an unforgettable gift?
Discover the art of lock picking with our complete training kit and amaze everyone with your skills!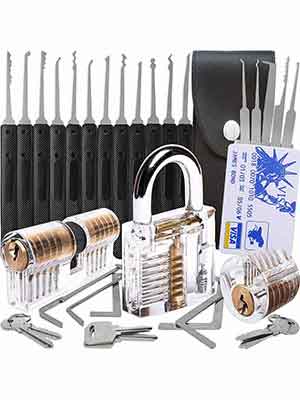 Everything You Need:

The Lockpickmall 20-piece lock picking kit includes everything you need to learn and master lockpicking: from a wide variety of tools to step-by-step easy to follow instructions. No prior knowledge required.
What You Get?
★ 17 Different Lock Picks
★ 5 Tension Wrenches (SUPER STRONG stainless steel wrench included)
★ 5-Piece Credit Card Lock Picking Kit
★ 3 Transparent Training Padlock With 2 Keys
★ 1 Vegan Leather Pouch
★ Beginner's Quick Start E-Guide "3 Steps to Pop Your First Lock"
★ Advanced E-Guide "MIT Guide to Lock Picking"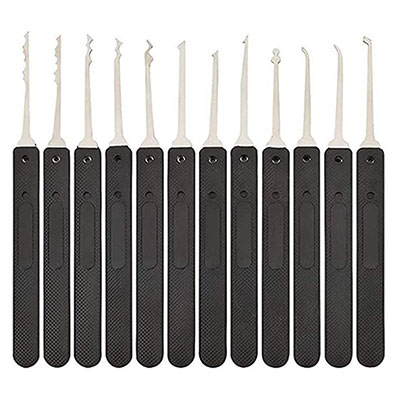 A Pick For Every Lock
◆ This set includes every pick you could ever ask for. With all this wide variety, you'll be ready for any lock that comes your way.
◆ We've also added a broken key extracting tool to help you get out of those common and costly accidents.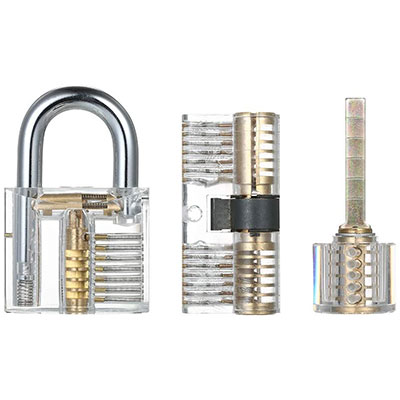 "Peek" Inside
◆ Understanding how locks work is essential before picking one. "Peek" inside the lock mechanism and see how everything works with our transparent padlock.
◆ It won't be long before you feel that incredible satisfaction as you pop it open before your eyes!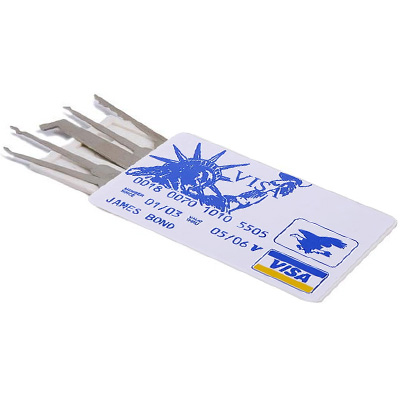 Be Prepared
◆ This ultra-portable lock pick kit includes 5 of the most essential tools.
◆ It discreetly fits in your wallet so you can carry it everywhere, perfect for emergency situations.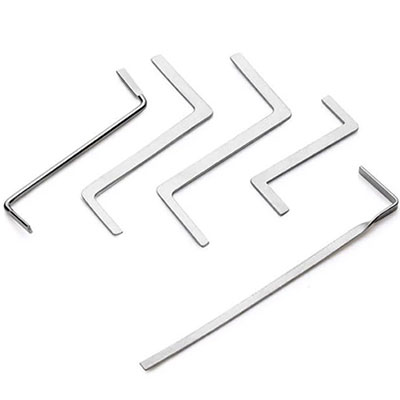 Super-Strong Tension Wrench
◆ We heard your feedback, and now we've replaced our previous tension wrench with a super-strong stainless steel one.
◆ No more worrying about breaking your most important tool!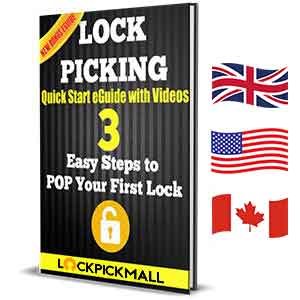 Beginner guide(Download Now)
◆ Pick your first lock by following the step-by-step instructions in our Quick Start E-Guide.
◆ Easy to read, includes videos and illustrations to help you get started.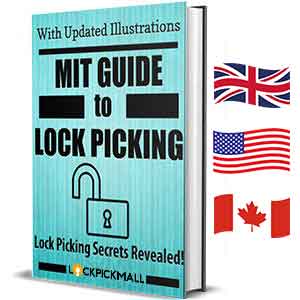 Advanced guide(Download Now)
◆ Dive deeper into the world of lockpicking with our second E-Guide.
◆ Learn the most advanced techniques that will help you pick even some of the most secure locks out there!

THANKS FOR COMING TO LOCKPICKMALL
WRITE YOUR OWN REVIEW
YOU'RE REVIEWING: 25 Pieces Lock Picking Kit W/3 Transparent Training Lock,5 PCS Credit Card Lock Picking Kit,17 PCS Stainless Steel Lock Picking Kit,Exercise Guide
HOW DO YOU RATE THIS PRODUCT?
---
Abs

03 Jul 2023

novice user, worked like a charm

i often get laptops locked onto docking stations and the user cant find the key. on my very first go with a lenovo laptop, i unlocked and removed the docking station in 5 seconds. fairly simple key it seems. but saved more than the cost of wasted time waiting for keys to be discovered..

Harvey's walker

28 Jun 2023

Good set for a beginner. Instructions could be better but YouTube is a great source of help.

It includes everything you need to start lock picking. Each lock is a different level difficulty getting progressively harder. Credit card tools included for out and about.

Seth croke

26 Jun 2023

It arrived a day late, however, the product itself is great.

Felix

05 Jun 2023

love this set, it really good for beginners to learn the art of lockpicking!

Robert

29 May 2023

They are a great company to buy from. Items are shipped quickly and are exactly as described. I will never buy these products from any other source.

Lewis

23 May 2023

Dont think of this as a professional tool to help you become a master locksmith, this is more for the budding puzzle enthusiast who wants a challenge. Overword, its good for beginners! A good selection picks and tools to train and expand your mind.

Felix

08 May 2023

It comes handy during the daily work

Colin

03 May 2023

Eason

24 Apr 2023

I found quite easy to use could do with an order lock to pick but a good practice kit for beginners.

Gene

17 Apr 2023

Everything is fine, but the delivery was slower than I expected!