15 Pieces Lock Pick Sets + Lock Pick Gun + Clear Training Lock + Locksmith Tools

13 reviews
$ 55.99
Package:
1 x Lock pick gun(Three lock picks included)


1 x Fully working, Transparent Padlock with visible mechanism for lockpick training

2 x Keys

3 x 7 Pins Lock Pick Tool (Full kit accessories)

1 x 7 Pins Plum Flower Cutaway Practice Transparent Lock with 1 key

15 pieces

lock pick sets
Craving a new challenge? Looking for an unforgettable gift?
Discover the art of lock picking with our complete training kit and amaze everyone with your skills!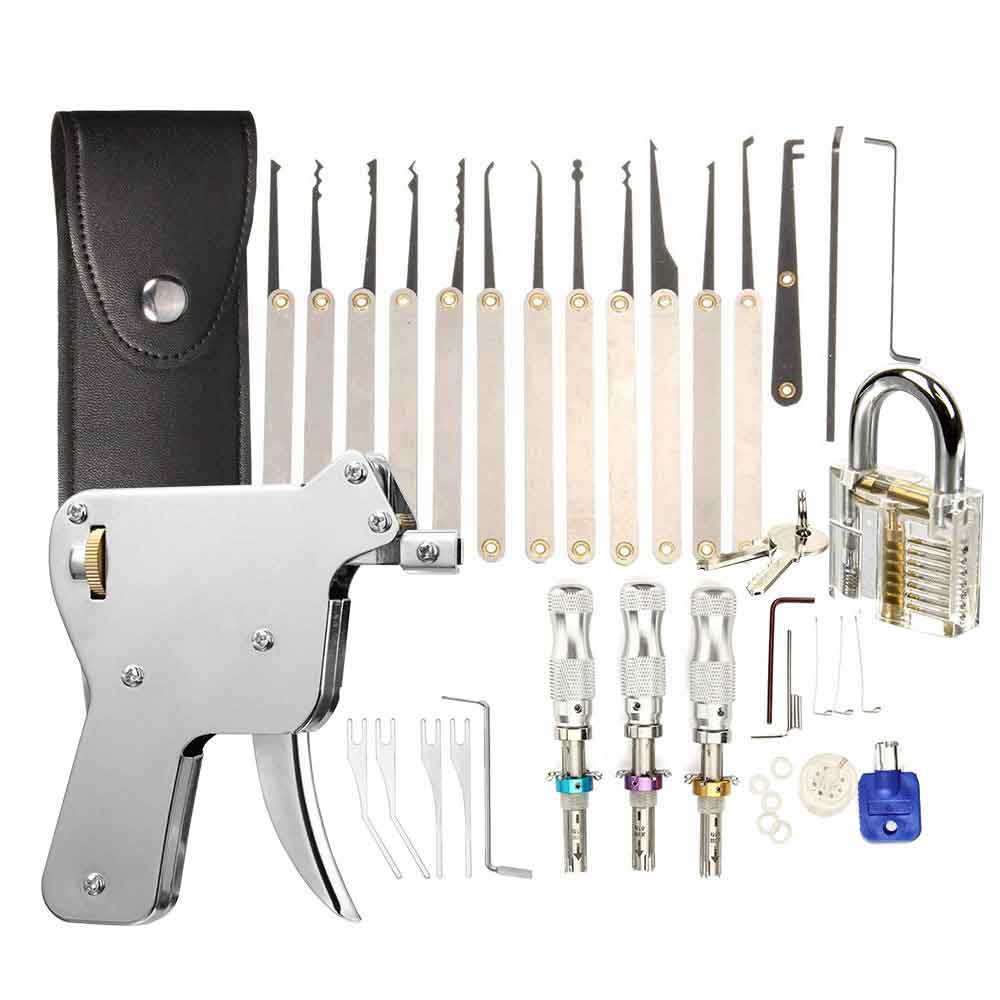 Package:
1 x Lock pick gun (Three lock picks included)
1 x Fully working, Transparent Padlock with visible mechanism for lockpick training
2 x Keys
3 x 7 Pins Lock Pick Tool (Full kit accessories)
1 x 7 Pins Plum Flower Cutaway Practice Transparent Lock with 1 key
15 pieces lock pick tool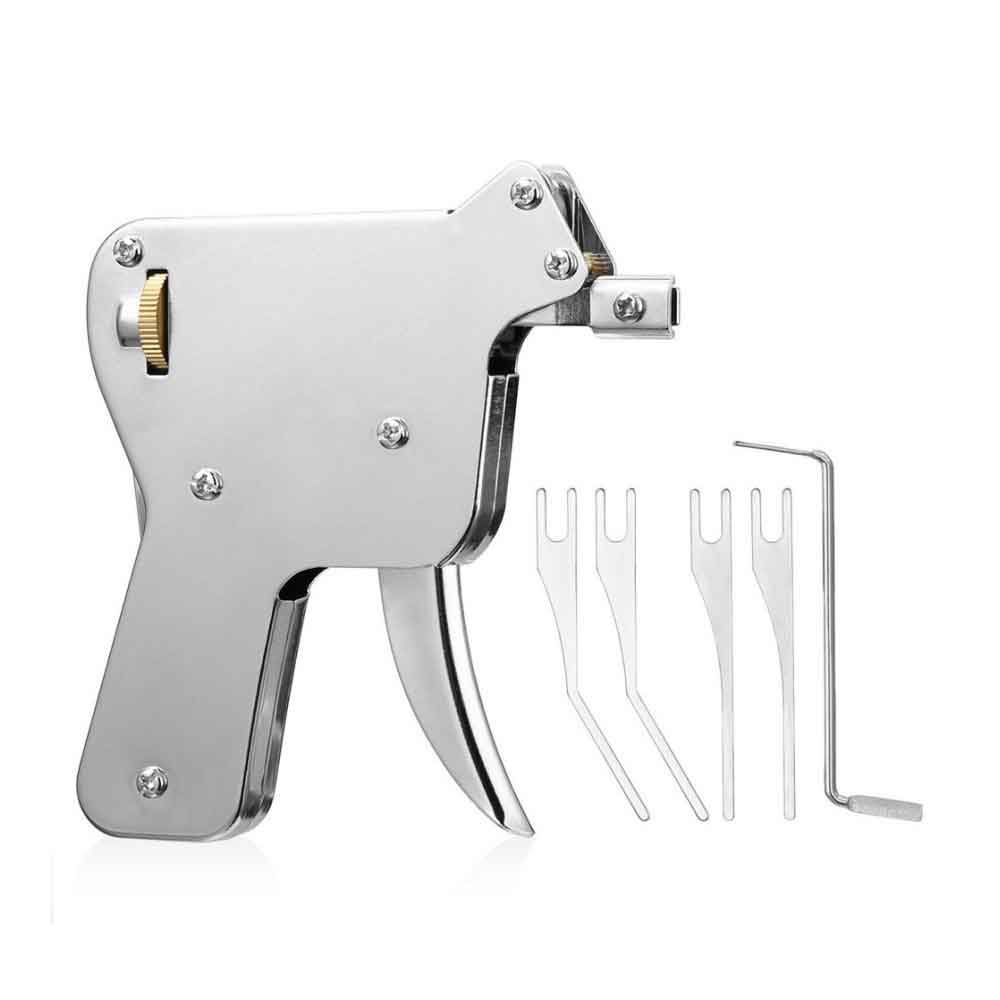 This lock pick guns tool was specifically designed to be inserted into a lock and, with the rapid pull of the trigger, activate all pins at once. The tool comes with three picks and a tension wrench tool. It fits easily in a glove compartment. Conventional hand picking requires the tediously manipulating just one or two pins at a time, so save yourself the trouble and get the Lock Pick Gun now!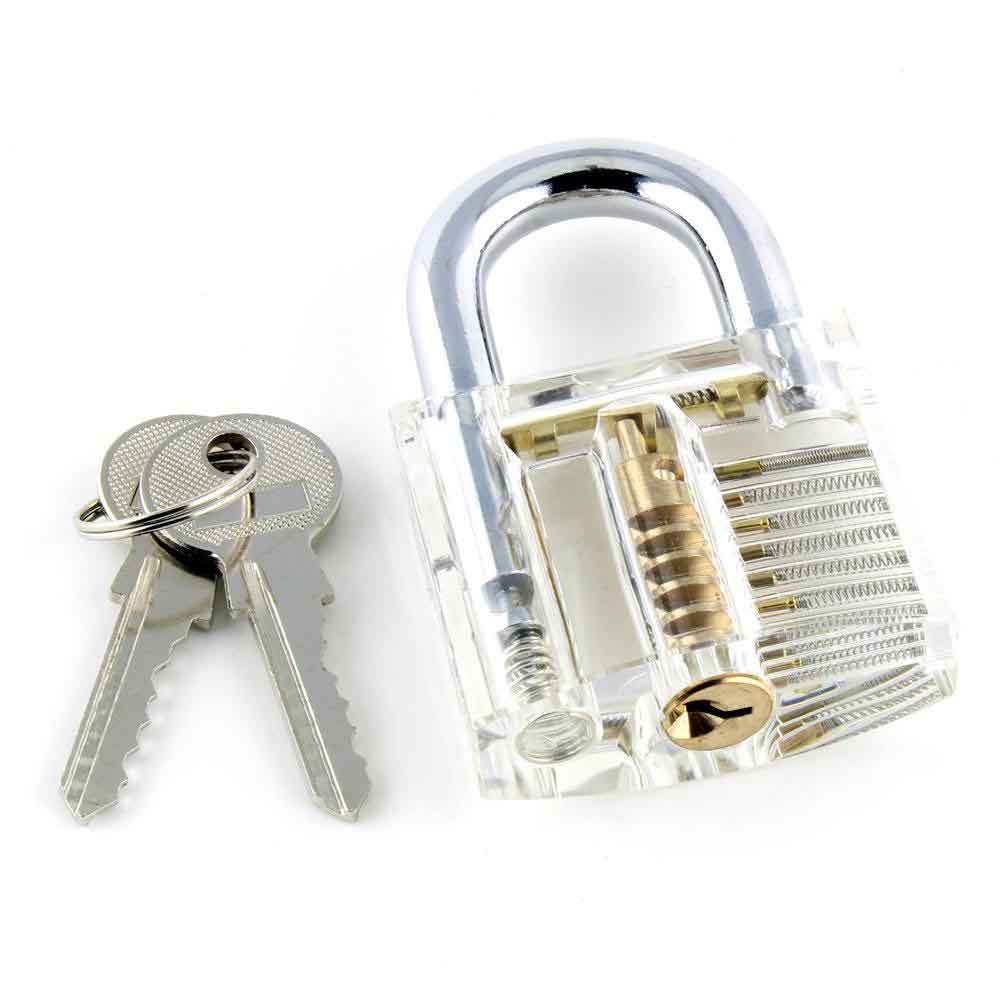 A clear practice padlock can help you visualize the lock's inner mechanisms. Of course, there will come a time that you'll test yourself in picking regular padlocks.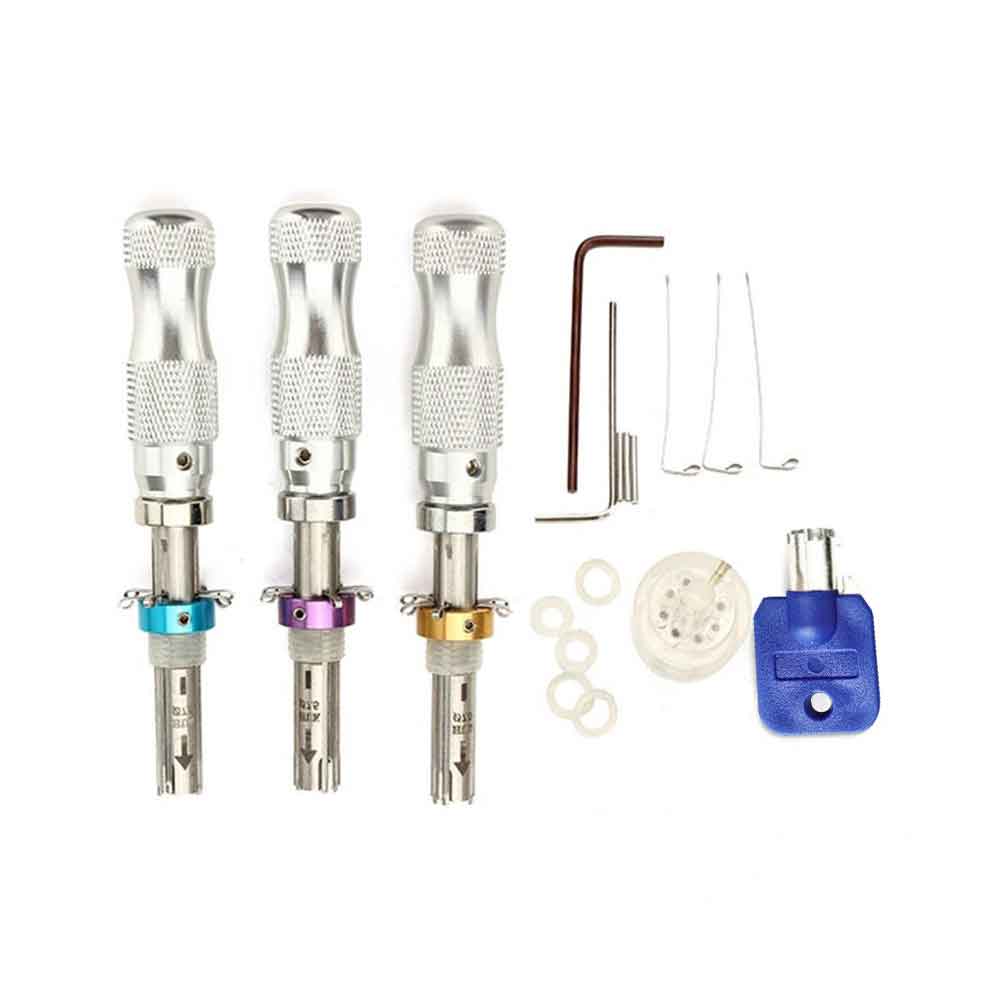 Lock with open chambers on all the moving parts that allow you to see how it work.
You can see clearly that how the pins work when a key is inserted.
You actually can see the pins moving up and down as the key slides into and out of the lock.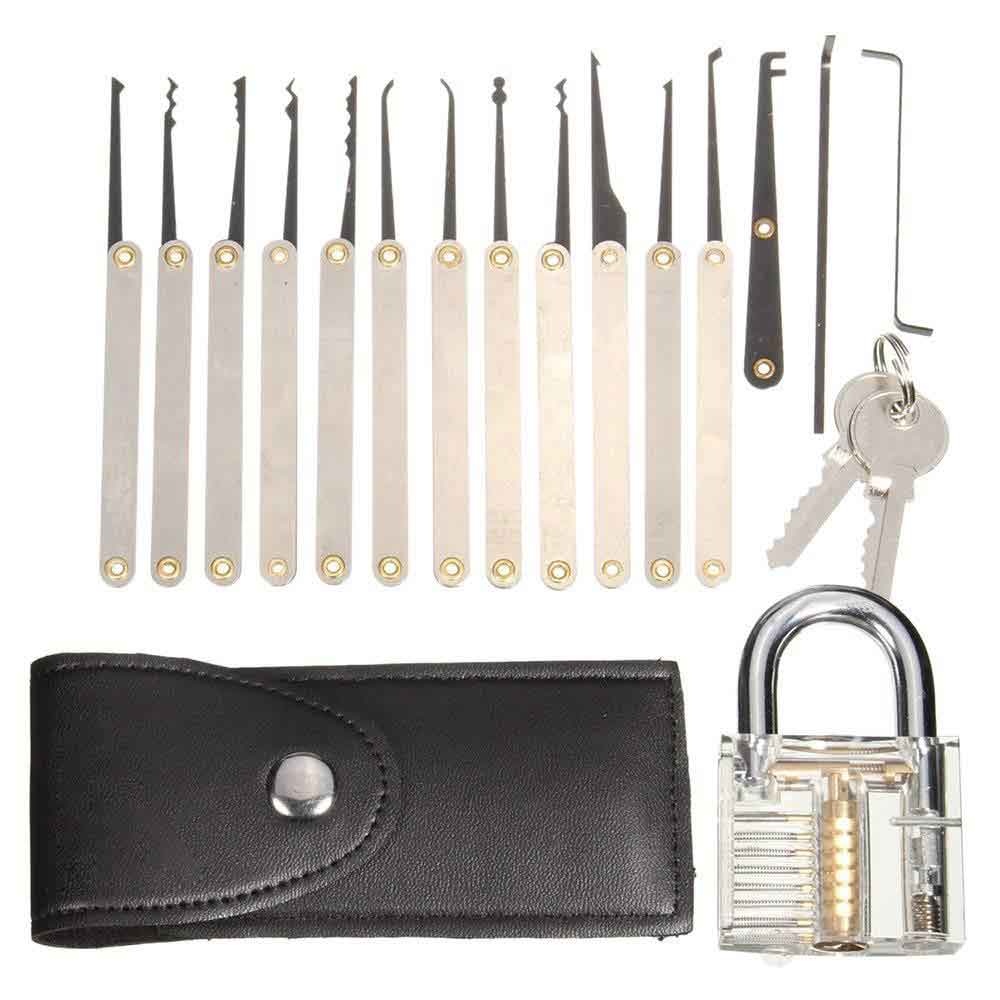 Trembling the Locks: With 12 various picks of stainless steel handle and 3 different wrenches, the lock picking set can be used for many mortise locks. More than one skill to open your own house, warehouse, garage or tool box locks
Innovative Design: The practice padlock is constructed clearly and transparently. You can see all the movements of 7 pins and understand how a padlock works. So you can gain more experience and improve your skill with this
lock pick set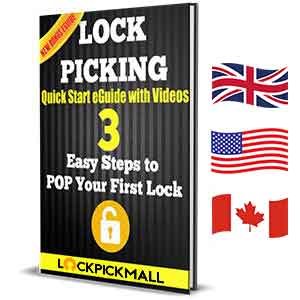 Beginner guide(Download Now)
◆ Pick your first lock by following the step-by-step instructions in our Quick Start E-Guide.
◆ Easy to read, includes videos and illustrations to help you get started.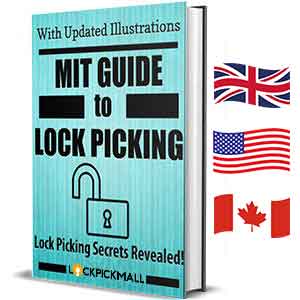 Advanced guide(Download Now)
◆ Dive deeper into the world of lockpicking with our second E-Guide.
◆ Learn the most advanced techniques that will help you pick even some of the most secure locks out there!
THANKS FOR COMING TO LOCKPICKMALL
WRITE YOUR OWN REVIEW
YOU'RE REVIEWING: 15 Pieces Lock Pick Sets + Lock Pick Gun + Clear Training Lock + Locksmith Tools
HOW DO YOU RATE THIS PRODUCT?
---
Taekoo

20 Nov 2023

Quality training product

This is a great lock set for those wanting to learn to pick locks. The keys are quite strong and i like how the padlocks are clear so you can see how they work as you practice the art of picking locks

Bilko

07 Oct 2023

Great product

This is a very good product. It matches the description. I was lock picked one of my padlocks in less than two minutes of opening the box.
Item was delivered quickly and well packaged and protected from damage.

Christopher

20 Jul 2022

Nicely prepared kit

This is a great kit with a variety of tools—that ultimately got the job done in my case.

Angel

13 Jul 2022

High quality tools

Excellent fast delivery Just need to practice now.

Damon

07 Jun 2022

Claus

21 May 2022

works well

You get what you buy, set came complete and works well!

Barry

06 May 2022

Thanks

Thanks, love the small size, well made and strong to perfect for my 15 PIECES LOCK PICK SETS! Thansk my dude!

Braxton

25 Apr 2022

best set I have bought

I thought I had a good set of picks,but these work & feel a 100% better, thumbs up on this product

Morio

09 Apr 2022

More than expected

the picks are super well finished, and the new learher pouch looks great

BraciaExploration

31 Mar 2022

recommend

Very solid packaging, product arrived intact Fulfilling my expectations, would recommend