Professional Lock Pick Gun with 5 Needles & Tension Tools

29 reviews
USD49.99 USD19.99
The process couldn't be more simple:

1.Insert tension tool and apply turning pressure

3.Repeatedly pull trigger

4.Lock opens

5.Stand back and enjoy the glory
How Do You Pick a Lock With a Pick Gun?
Many pin cylinder locks will open in seconds with this design classic.
The process couldn't be more simple:
1.Insert tension tool and apply turning pressure
2.Insert pick gun needle into lock
3.Repeatedly pull trigger
4.Lock opens
5.Stand back and enjoy the glory
Manual
Lock Pick Guns
come in two types - those that flick the needle UP for locks with the pins above the keyway (USA) and those that flick the needles DOWN for locks with the pin below the keyway (UK/EU) - this one is an UP version.
The beauty of the manual pick gun is it's always ready to go. No batteries, no charging, no messing about. Just screw in a needle (spares provided) insert, tension wrench and you're ready to go.
Originally developed for US Law Enforcement the manual pick gun is a classic piece of
lock picking kit
that is reliable, effective and simple to use.
We are so confident about the quality of this tough, reliable chunk of lock picking excellence each one comes with a lifetime warranty.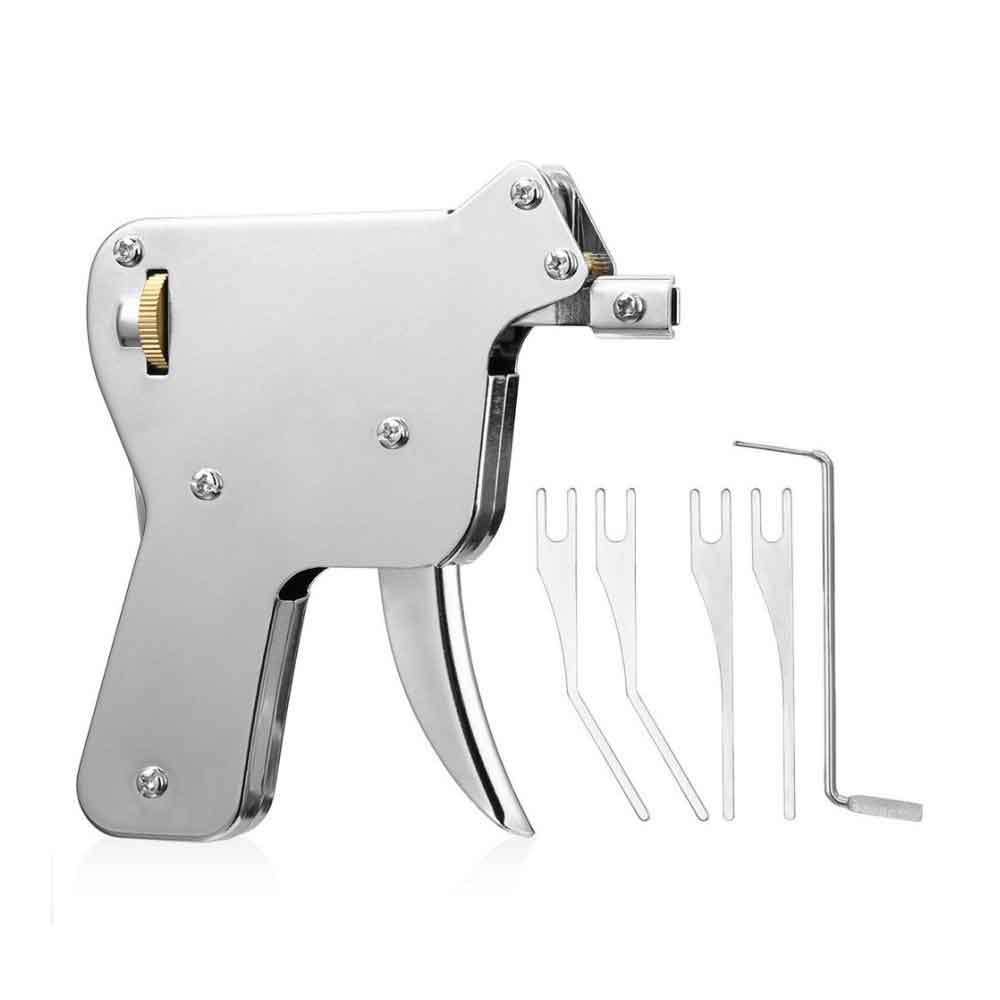 THANKS FOR COMING TO LOCKPICKMALL
WRITE YOUR OWN REVIEW
YOU'RE REVIEWING: Professional Lock Pick Gun with 5 Needles & Tension Tools
HOW DO YOU RATE THIS PRODUCT?
---
Michael

08 Nov 2021

I love it

This lock pick gun is ridiculously good and what you are looking for in a lockpick tool it's all you need God bless and enjoy open the doors to your life.

Mercedes

28 Oct 2021

THE BEST SO FAR.

VERY EASY TO USE. WORKED ON ONE OF THE TOUGHEST LOCKS IVE HAD SO FAR, ONLY TOOK ABOUT THREE POKES AND IT WAS OPEN. DEFINITELY RECOMMEND

Jack

11 Oct 2021

Good product!

High Quality with quick delivery! I love it so much!

Ben I.

05 Aug 2021

Awesome tool

This came quick and I was picking locks within 5 mins of opening the package.

Ligue

31 Jul 2021

Good addition to the collection

Works as intended, may require some practice. Opened a practice lock with it but some attempts are easier than others. It won't instantly open any lock, you need to leave some space for the gun to do its job. Also luck is a factor sometimes. Still a nice piece to add to my pick set.

David H.

19 Jul 2021

Quick delivery, friendly service.

Wilfredo C.

23 Jun 2021

Best lock pick gun for the price

Everything works on pick gun as intended and performs great

Anthony T.

11 Apr 2021

Getting better

It will take some practice but I feel it makes locks easier to pick. Now if I could get better with a door handle.

Frank R.

10 Mar 2021

Brockage'10

Great item. Easy to use and veey durable. Essential for quick pick.

Ron O.

29 Jan 2021

Excellent: I would definitely buy from you again.

Excellent: I would definitely buy from you again.