25 Pieces Lock Picking Kit + Lock Pick Gun Transparent Training Lock

19 reviews
$ 32.00
* 17 Different Lock Picks

* 5 Tension Wrenches (SUPER STRONG stainless steel wrench included)

* 5-Piece Credit Card Lock Picking Kit

* 3 Transparent Training Padlock With 2 Keys

* 1 Vegan Leather Pouch

* Beginner's Quick Start E-Guide "3 Steps to Pop Your First Lock"

* Advanced E-Guide "MIT Guide to Lock Picking"
* Lock Pick Gun
Craving a new challenge? Looking for an unforgettable gift?
Discover the art of lock picking with our complete training kit and amaze everyone with your skills!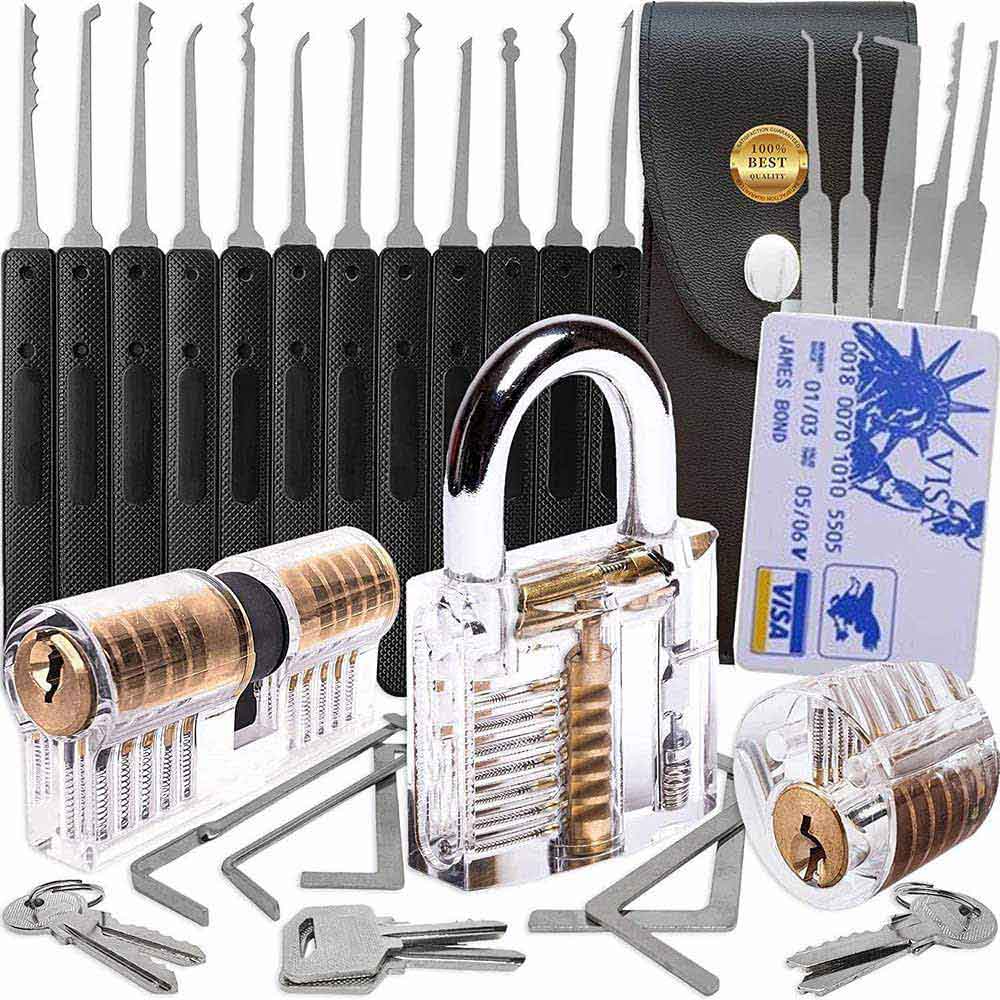 Everything You Need:

The Lockpickmall 20-piece lock picking kit includes everything you need to learn and master lockpicking: from a wide variety of tools to step-by-step easy to follow instructions. No prior knowledge required.
What You Get?
★ 1 Lock Pick Gun
★ 17 Different Lock Picks
★ 5 Tension Wrenches (SUPER STRONG stainless steel wrench included)
★ 5-Piece Credit Card Lock Picking Kit
★ 3 Transparent Training Padlock With 2 Keys
★ 1 Vegan Leather Pouch
★ Beginner's Quick Start E-Guide "3 Steps to Pop Your First Lock"
★ Advanced E-Guide "MIT Guide to Lock Picking"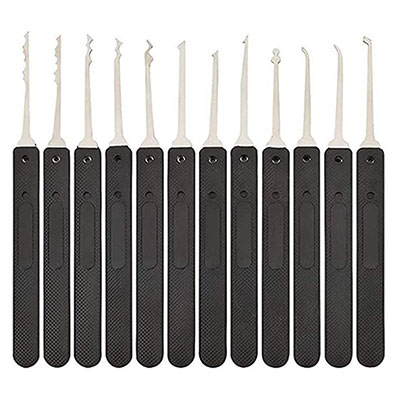 A Pick For Every Lock
◆ This set includes every pick you could ever ask for. With all this wide variety, you'll be ready for any lock that comes your way.
◆ We've also added a broken key extracting tool to help you get out of those common and costly accidents.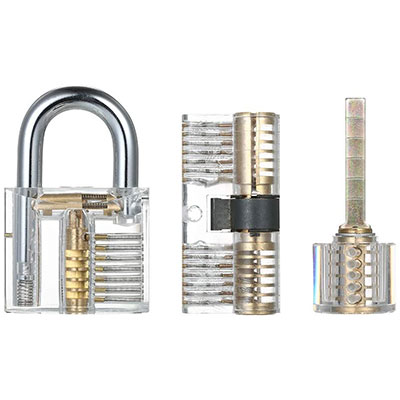 "Peek" Inside
◆ Understanding how locks work is essential before picking one. "Peek" inside the lock mechanism and see how everything works with our transparent padlock.
◆ It won't be long before you feel that incredible satisfaction as you pop it open before your eyes!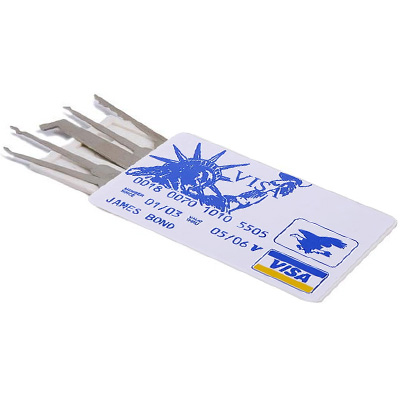 Be Prepared
◆ This ultra-portable lock pick kit includes 5 of the most essential tools.
◆ It discreetly fits in your wallet so you can carry it everywhere, perfect for emergency situations.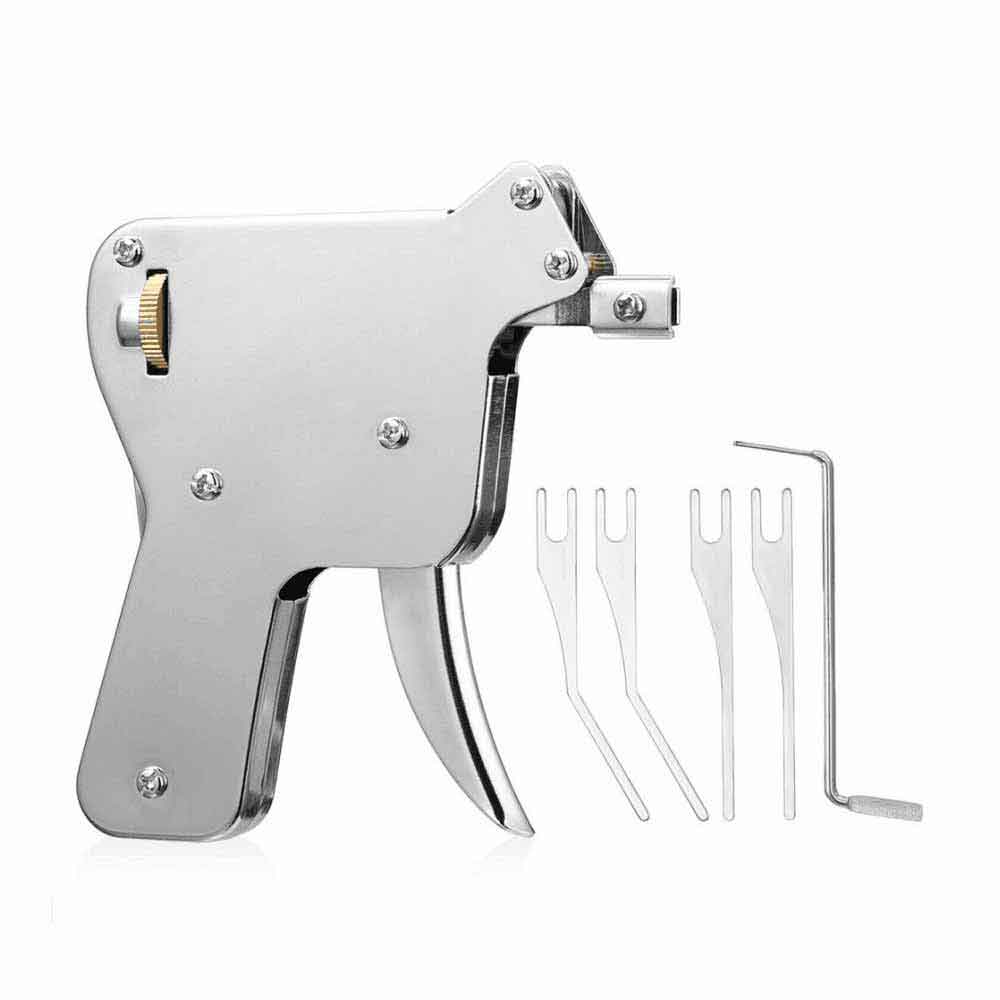 The process couldn't be more simple:
1.Insert tension tool and apply turning pressure
2.Insert lock pick gun needle into lock
3.Repeatedly pull trigger
4.Lock opens
5.Stand back and enjoy the glory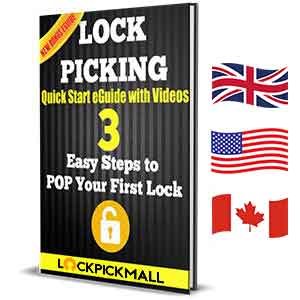 Beginner guide(Download Now)
◆ Pick your first lock by following the step-by-step instructions in our Quick Start E-Guide.
◆ Easy to read, includes videos and illustrations to help you get started.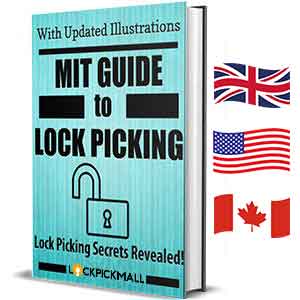 Advanced guide(Download Now)
◆ Dive deeper into the world of lockpicking with our second E-Guide.
◆ Learn the most advanced techniques that will help you pick even some of the most secure locks out there!

THANKS FOR COMING TO LOCKPICKMALL
WRITE YOUR OWN REVIEW
YOU'RE REVIEWING: 25 Pieces Lock Picking Kit + Lock Pick Gun Transparent Training Lock
HOW DO YOU RATE THIS PRODUCT?
---
Mr Adrian Ryan

02 Dec 2023

Service very good

To use to unlock a look on my bike

Braxton

20 Feb 2023

nice quality, i will give it 5 star as long as the shipping speed could be faster.

Nacy

19 Nov 2022

Jessy

14 Oct 2022

It would be perfect if the delivery speed can be faster!

Orson

16 Sep 2022

Best tools ive ever owned! thanks!

shimmel

17 Aug 2022

great customer service

I bought this lock pick set as an anniversary gift for my husband. He loves it! He sat down as soon as he got it and started learning how to pick locks. He really liked the included clear locks so he could visualize what was happening. Thank you for offering the whole set!

Christian

13 Jul 2022

need to practice

Excellent fast delivery Just need to practice now.

Felix

29 Jun 2022

It's good for beginners and make advance in lock picking skills

Gavin

17 Jun 2022

Everything needed

Everything needed to get started in lock picking in one pack

Charles

07 Jun 2022

A great start tool set

This is a great budget kit for people to start off, really worth the price!