20 Piece Lock Pick Set Tools and One Clear Lock

7 reviews
$ 22.99
*Whether you are a novice or a professional locksmith, this

lock pick set

of practice locks will give you the desired effect and fun.

*Transparent case allow you to see all the moving parts how to work!

*The black zippered bag has soft texture, strong protection and layered design. Each layer has an appropriate location for the tool.
The transparent padlock can clearly see how all the moving parts work. Coming with 20 different lock pick set tools, including steel lock picks with comfortable handles, 3 tension wrenches and 1 hook, which suitable for both beginners who just getting started with the skill as well as locksmiths.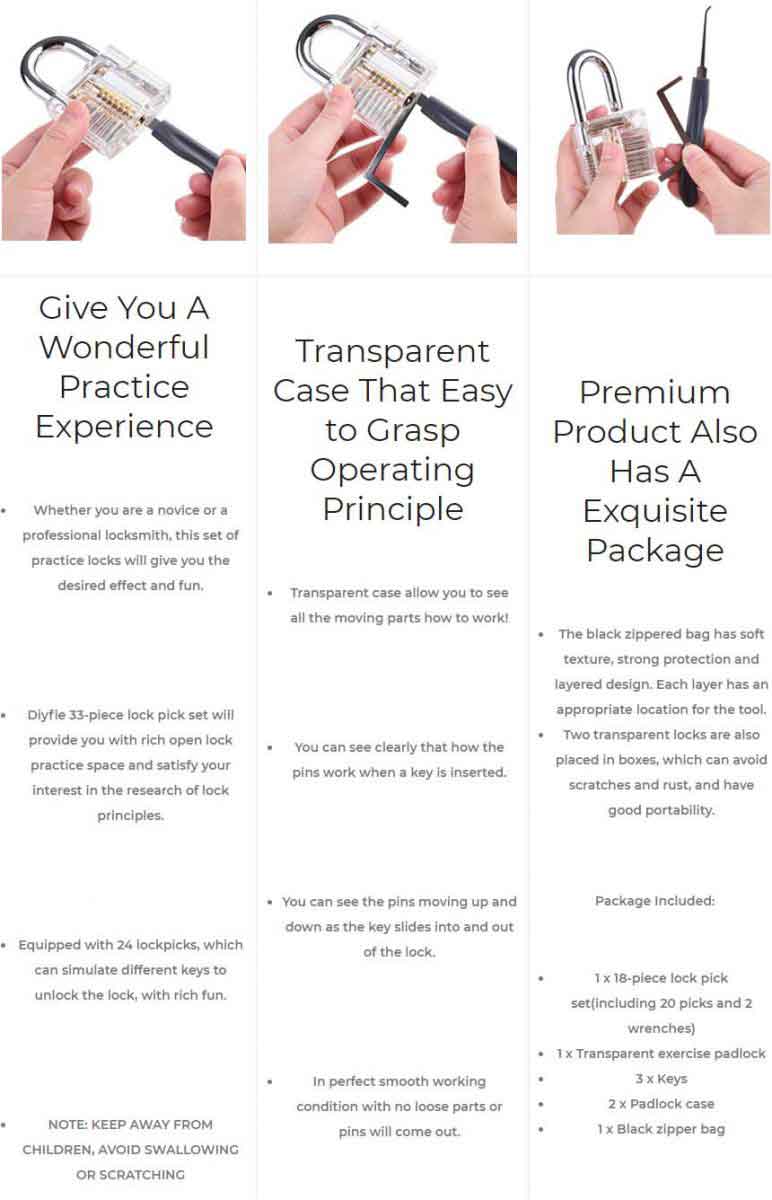 THANKS FOR COMING TO LOCKPICKMALL
WRITE YOUR OWN REVIEW
YOU'RE REVIEWING: 20 Piece Lock Pick Set Tools and One Clear Lock
HOW DO YOU RATE THIS PRODUCT?
---
Paul Mansfield

28 Aug 2023

Great to learn the basics

This is a great set for anyone wanting to learn the basic skills of lock picking. I have spent many hours playing with these and have now started buying old locks at car boot sales and with moderate success have been able to open them using these sets. There is a code with each set that leads you to some very useful online guides. Great value for money and a great gift for that person who is difficult to but for.

Rhys

12 Aug 2023

Thought I'd give idle hands something to do

First off, I am not now, nor will I ever be a professional lock picker. This was bought to occupy my mind while reading or watching something repeated on the TV. Well constructed, the see-through casing allows you to see what you are doing and shows how the locking mechanisms work. That in itself was fascinating.

The sense of achievement when you first get the lock to open is like being 5 years old and taken to a candy store for the first time.

Roberts

31 Jul 2023

Fun thing

This entry level lock pick set is good enough to get you started and to let you see if this is something you'd want to pursue more, but I don't think it'd last you a long time and you'd want to be upgrading to a more high level set in a short space of time.

UpLink

17 Mar 2023

Decent set for beginners/training

I'm an apprentice but this is currently my 3rd (1st of these) and when it comes to learning to pick you need a durable and comfortable pickset and these are perfect for training and field work!

Susan

14 Feb 2023

Love it!!! Ready practice. It is a full kit that will give hours of practice. Great price. Shipping took a while but that is worth it so let at 5 stars. Thank you!

George

13 Jul 2022

Purchased multiple items

Not had any problems and low opening most padlocks in less than 15 seconds and iv. Ever done it befor.

Brady

06 May 2022

arrived fast

This arrived fast ....I had already familiarized myself with the mechanics of the lock pick on youtube. I took this immediately upon arrival and unlocked a gunsafe in my mothers house that belonged to my dead father and hadn't been opened in seven years in fifteen minutes...