32 Pieces Lock Pick Tools Set with 7 Pieces Transparent Practice Lock

2 reviews
$ 59.99
32 Pieces High Quality Stainless Steel Pick: Those picks are made of advanced and smooth stainless steel which is durable enough to open the locks, each combine with synthetic Non-slip handle for a comfortable feeling when holding.

Transparent Practice Locks Set: 7 pieces transparent locks let you see precise lock core how to operate below the use of key and unlock tool, faster and better grasp the operation principle of lock. Both novice and professional locksmiths will be happy to use it.

Great Entertainment and Learning Tools: Lock Picking is more than just a funny hobby, it's also a valuable skill to get yourself back in the house if things go wrong. A good educational tool for your kids to develop intelligence as well.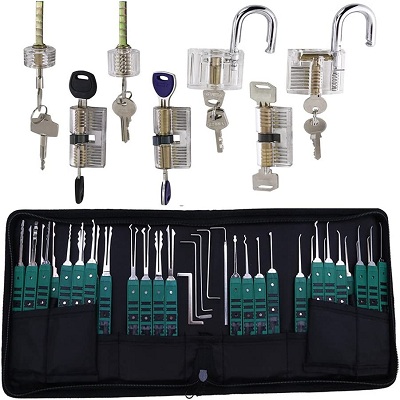 32 Pieces Lock Pick Set with Tension Wrenches
32 pieces lock pick tools set includes all the tools you need to become a professional locksmith, 32 pieces lock pick tools, 5 additional tension tools. You can apply to switch padlocks, door locks, filing cabinets, gear sheds, bike locks, even some cars with this lock pick set.
The handle of the lock picking tool is upgraded to anti-slip silica gel for comfortable grip. The lock unlocking part is made of high quality, smooth stainless steel and will not scratch your fingers. Transparent padlock adopts high purity plastic, no impurity and particle sense. Precision lock core, hundreds of thousands of times to pry without loosening off, to meet your endless practice lock needs.
Package Included:
32 Pieces Lock Pick Tools Set with 5 Pieces Tension Wrenches
7 Pieces Transparent Practice Lock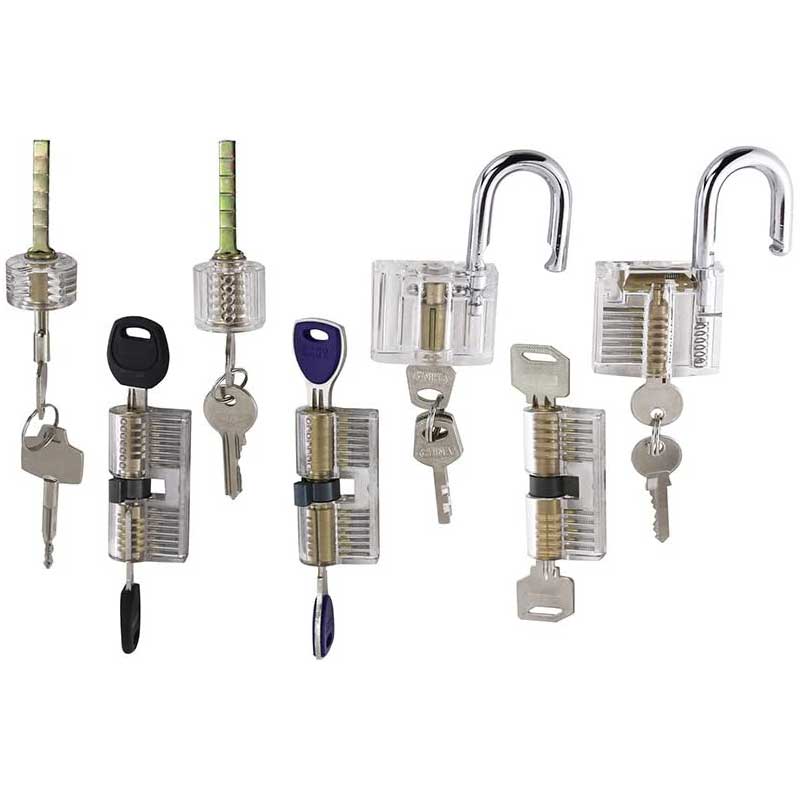 Transparent Practice Locks Set
Including 7 pieces well-crafted practice lock, 2 Cylinder locks, 2 Padlocks and 3 double cylinder locks help you see clearly how the mechanism works, faster and better grasping the operation of the lock Law, great for beginners and locksmith training! You don't need to look at the construction when you learn how to unlock!
This lock picking training tool contains 4 clear practice locks of different difficulty levels. You can clearly see how the lock cylinder works under the operation of the key and locking tools. When you practice to a certain level, you can challenge the higher difficulty, wearing a black lock cover for blind training. You can't see the lock cylinder, but only by feeling and hearing the sound to unlock the lock, increasing the fun and difficulty.
THANKS FOR COMING TO LOCKPICKMALL
WRITE YOUR OWN REVIEW
YOU'RE REVIEWING: 32 Pieces Lock Pick Tools Set with 7 Pieces Transparent Practice Lock
HOW DO YOU RATE THIS PRODUCT?
---
cris

21 Aug 2023

Good

It's good quality for the price

Ben Robinson

24 Jul 2023

Tools are OK

Really good fun. Managed to pick my gate padlock and a new one bought from B&Q. I'm scared to try my house locks incase they pick easily !!!