Car Lock Pick Master Key for Auto Door Open

55 reviews
$ 8.99
*Tempered 301 stainless steel construction

*Domestic and foreign makes

*Comes on a keyring

*Unlocks late-model and older vehicles alike
*Tempered 301 stainless steel construction
*Same tool used by many locksmiths
*Domestic and foreign makes
*Comes on a keyring
*Unlocks late-model and older vehicles alike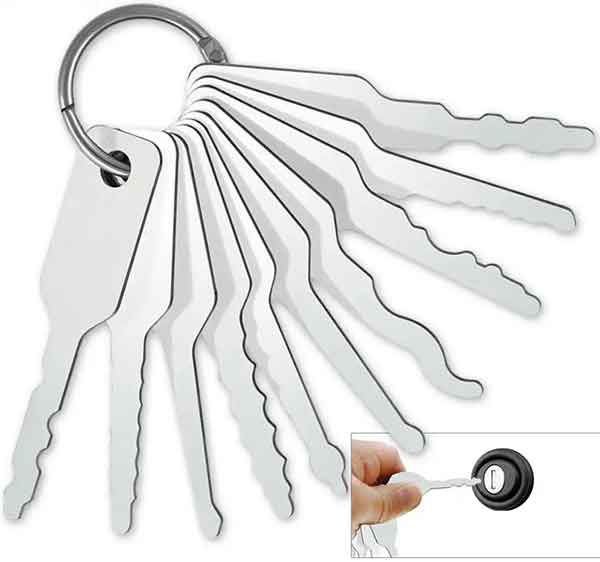 You'll make friends fast when you rescue them from dreaded "locked keys in car" situations! These
auto lock pick
are made of tempered 301 stainless steel and come on a keyring. They will unlock late-model and older vehicles alike - both domestic and foreign.
THANKS FOR COMING TO LOCKPICKMALL
WRITE YOUR OWN REVIEW
YOU'RE REVIEWING: Car Lock Pick Master Key for Auto Door Open
HOW DO YOU RATE THIS PRODUCT?
---
Karen Gamrath

11 Oct 2022

Amir

16 Sep 2022

Arleen W

09 Sep 2022

it is a birthday gift

Because I purchased this as a birthday gift, I can't comment on the product itself. I'll let you know when the giftee tells me about the product. The service, however, is outstanding, and the personnel at the company have been very responsive and accommodating to this point.

Dawson

02 Sep 2022

VERY GOOD QUALITY Master Key

I bought this set because it was suggested in a video I watched. And I am satisfied with it!

Abbas

26 Aug 2022

Bart

22 Aug 2022

Solid quality, this really makes me happy.

Ismail H. Batum

17 Aug 2022

Works Fine

Great product ! I bought these as a side hustle I go to local parking garages,malls etc and open car doors and collect loose change !

Braxton

10 Aug 2022

A very affordable master key set, worth for its price.

Jack

06 Aug 2022

Love the quality of the picks. Already have been used successfully many times. Very pleased with the quality endurability thus far.

Colin

02 Aug 2022

The master key was exactly as advertised and was delivered promptly and in great condition.