Electric Lock Pick Gun with 24 Pieces Lock Picking Tools Set and 5 Pieces Credit Card Lock Pick Set
$ 89.99
Electric Lock Pick Gun: It is a professional lock pick tools for locksmith, including 1x rechargeable electrical lock pick gun with 2 different chucks; 1x charger for the electric gun; over 25 pieces most commonly used lock pick tools, 1 case for lock pick gun, 1 box to collect all the tools.

24 Pieces Lock Pick Set: These lock picks are made of advanced & smooth stainless steel, which will perfectly protect your finger from scratch. The handle is made of soft plastic which will let you feel comfortable when you hold the tool.

5 Pieces Credit Card Lock Picking Tool Kit: This Amazing 5 pieces lock pick set comes in the shape of a credit card. This means it can easily fit in your wallet for every day needs. This kit contains 4 picks and 1 tension tool.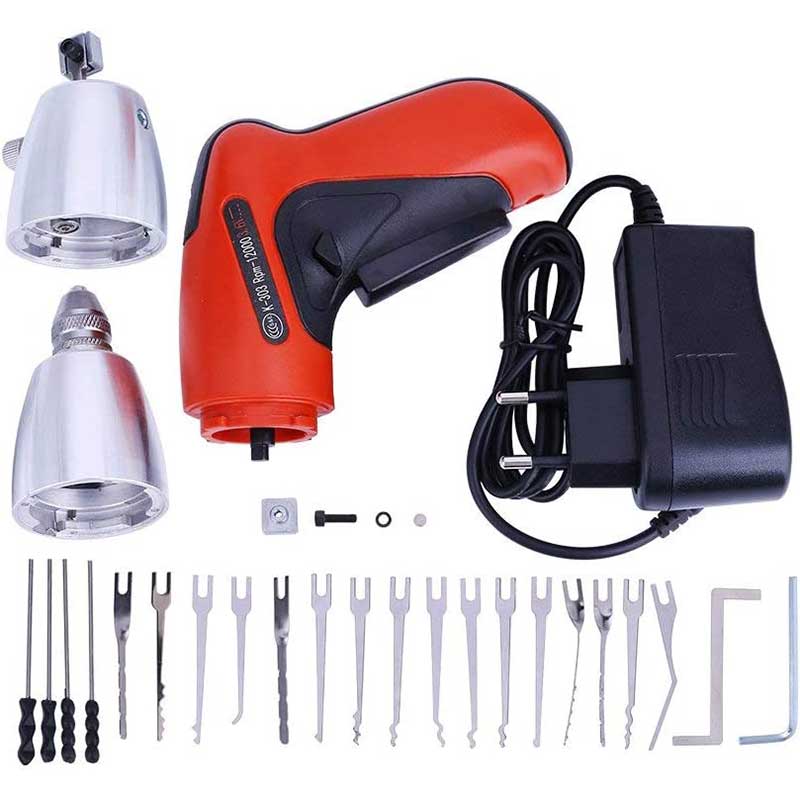 Features of Electric Lock Pick Gun Set

Open Locks in seconds with this special lock pick gun
High quality budget electric pick gun, high speed and long battery life
Complete with picks, tension tools, spares and accessories
Now supplied with a hard style case and complete with interchangeable drill head

Package included:
1x lock pick gun
2x drills for the gun
1x charger for the pick gun
1pack lock pick tool
1x pouch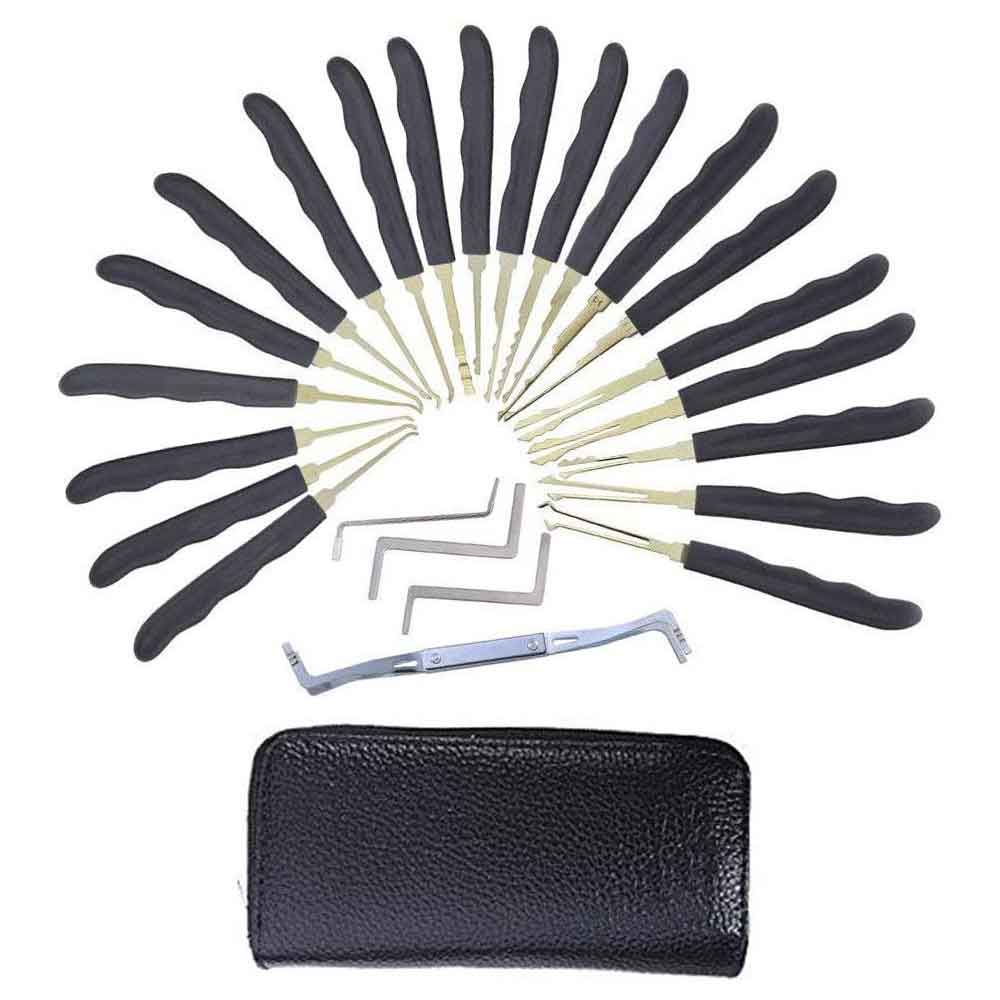 24-Pieces Lock Pick Set

This item is a set of lock opener tools kit, which is made of hard and durable Titanium and packed in a leather bag that designed to organize the tools.
It includes 20 separate picks and 4 tension tools. Suitable for hook style and scisso style locks, nice and wonderful lock opener kit for professional and amateur.
The handle of the lock pick set is made of soft plastic and is comfortable to hold. Wrenches and picks are made of high quality and smooth stainless steel, which is strong and durable and perfectly protects your fingers from scratching.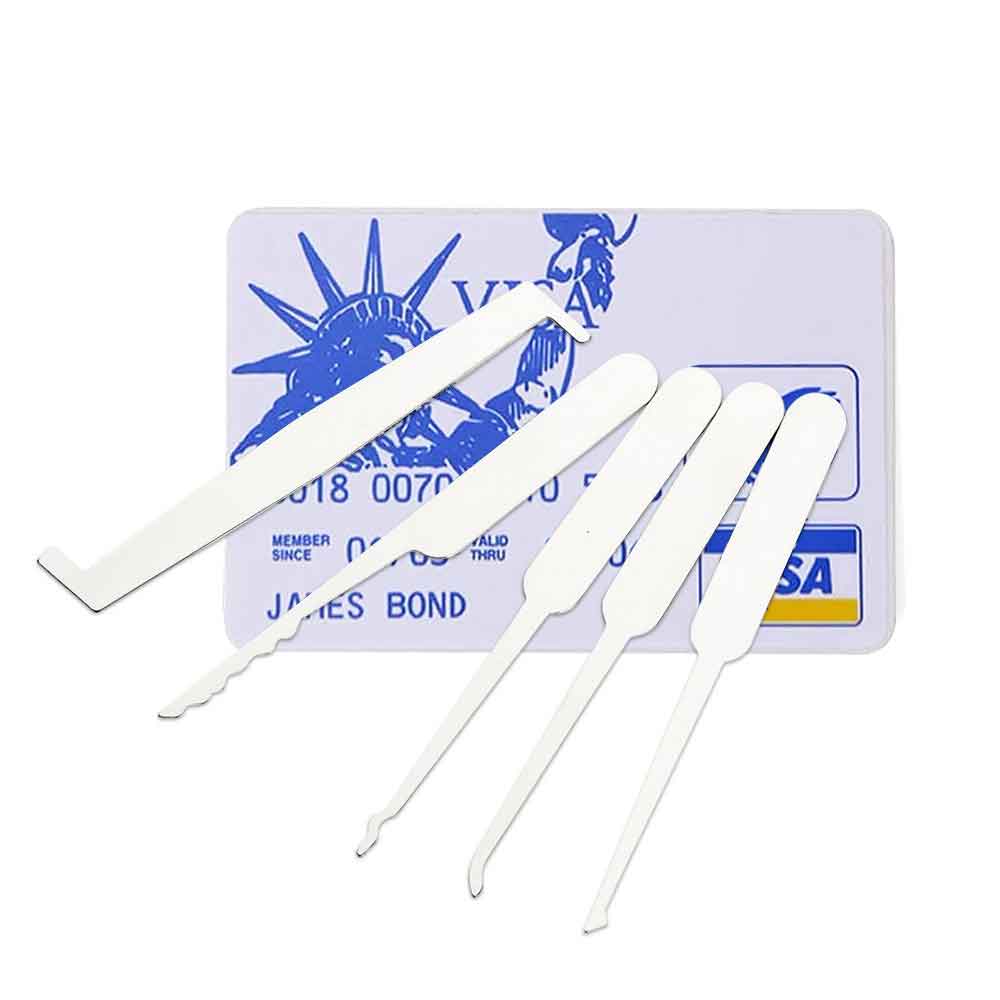 5-Pieces Credit Card Lock Pick Tools Set

This ultra-portable lock pick kit includes 5 of the most essential tools.
It discreetly fits in your wallet so you can carry it everywhere, perfect for emergency situations.
5 Pieces Included. Even in a small package, we provide 5 tools to tackle any kinds of lock. This kit contains 4 picks and 1 tension tool.
Great for beginners. This is a great beginners lock picking set.
THANKS FOR COMING TO LOCKPICKMALL
WRITE YOUR OWN REVIEW
YOU'RE REVIEWING: Electric Lock Pick Gun with 24 Pieces Lock Picking Tools Set and 5 Pieces Credit Card Lock Pick Set
HOW DO YOU RATE THIS PRODUCT?