Hot Sale 8 Piece Beginner Lock Pick Set

8 reviews
$ 15.99
Lock Pick Set Comes with a Z-wrench!

*Long hook

*Half diamond

*S rake

*Wide hook

*Ball

*Broken Key Extractor

*Dimple rake

*Z Wrench
*Long hook
*Half diamond
*S rake
*Wide hook
*Ball
*Broken Key Extractor
*Dimple rake
*Z Wrench

If you want to give lock picking a go, but don't want to break it, you're looking for a set with a variety of picks and a decent wrench. No complicated specialist tool you won't use, just what you need to get picking immediately. Comfortable, well-weighted and straight to the point.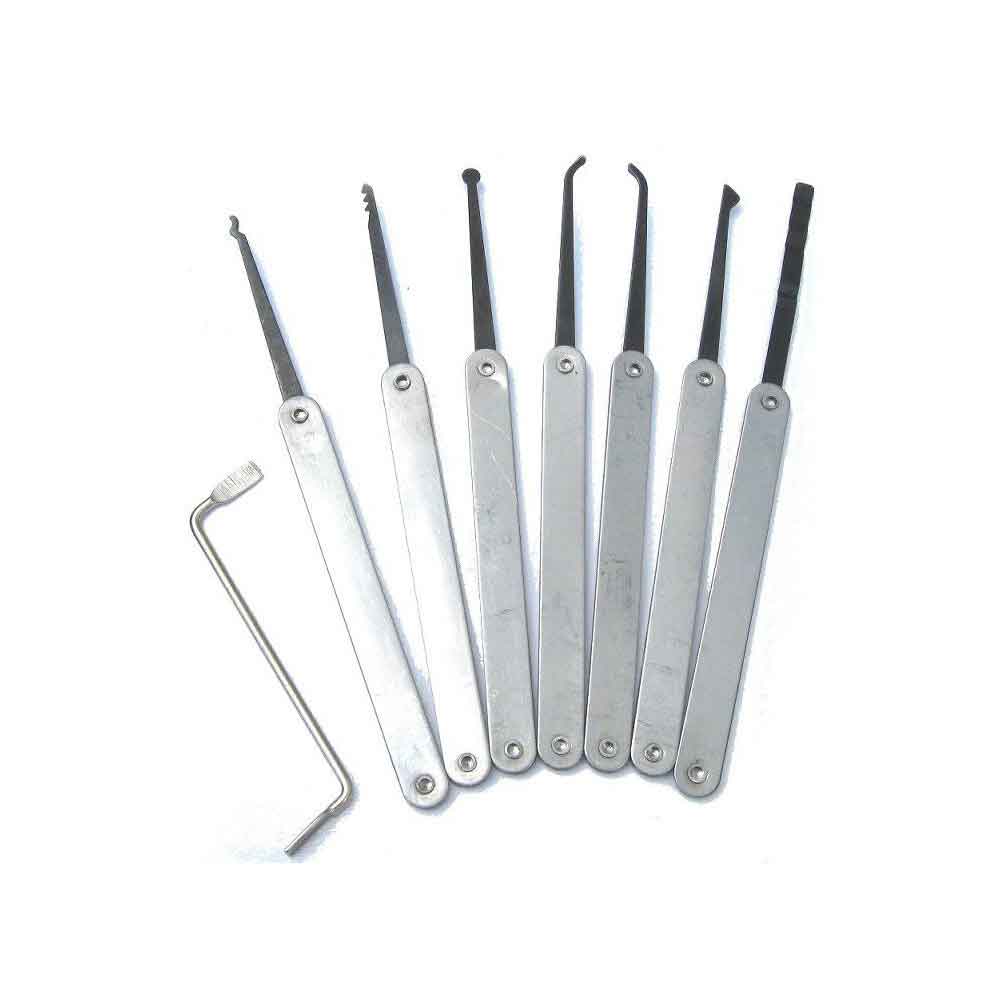 THANKS FOR COMING TO LOCKPICKMALL
WRITE YOUR OWN REVIEW
YOU'RE REVIEWING: Hot Sale 8 Piece Beginner Lock Pick Set
HOW DO YOU RATE THIS PRODUCT?
---
Antonio F.

20 Jun 2021

great beginner kit

one pick snapped in a week, under light use

Joshua L.

18 May 2021

Yeah I think the merchandise and the quality is good also and I don't have to worry about if my order not getting to me on time because y'all are always on time I will be buying more from y'all web site in the future to come thank you for a job well done

Ed D.

28 Oct 2020

Very Nice Pick Set for Beginners

This is a very nice pick set for the beginner locksmith. The picks have heavy duty stainless steel handles. Make sure you buy a case though because this set doesn't come with one. I recommend the Dangerfield Premium Zip-around Lock Pick Case.

Justin D.

01 Oct 2020

Very timely

Product was shipped on time and was as advertised only included a leather case that wasn't even included thanks!

John L.

28 May 2020

what i think

I,m just learning and would love to open locks

Jared H.

04 Feb 2020

Great beginner set

They came quickly and are made of higher quality steel than I thought it would be. The picks are a little thicker than I was expecting. But would definitely order again.rn

Adam C.

14 Jul 2019

Beginner lock pick set

I'm brand new to lock picking and this set worked great. It's very easy to use which is a big confidence builder. The only thing that could make this set any better would be a brief description of each tool in the set and what it's used for, a set of instructions for use. Other than that it is top notch.

Phillip S.

16 May 2019

Exceeded expectations

Terrific service and quality product from what I have seen. I will purchase more as my skills increase. Customer service from Gayle and Chris was exceptional. Thank you.