Lock Pick Decoder Key 10 Pin Tubular

9 reviews
$ 63.99
Press pick on a flat surface to ensure the 'blades' are all level

Insert pick into the lock

Gently push while lightly turning left and right

The lock opens!

The inner diameter of 0.316/0.318 inches (8.02–8.07 millimeters)

The outer diameter of 0.370 inches (9.39 millimeters)
Craving a new challenge? Looking for an unforgettable gift?
Discover the art of lock picking with our complete training kit and amaze everyone with your skills!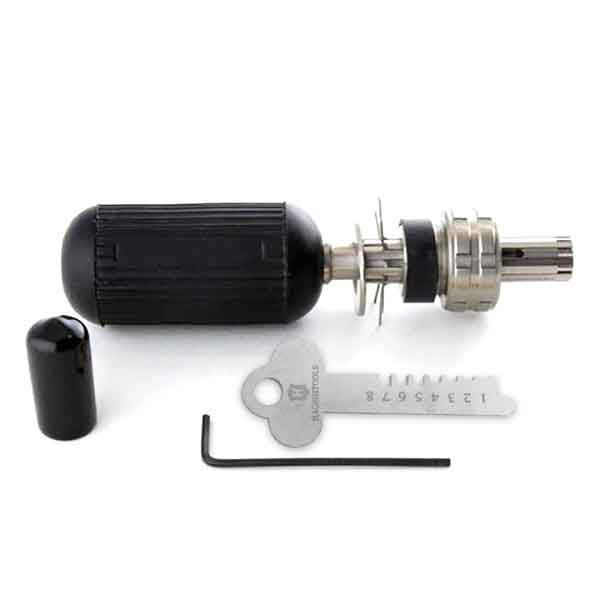 The lock pick tool is a tube with several blades around the outside, each corresponding to a pin in the lock. When inserted into the lock, the pins cause a resistance, causing the blades to set at different levels. When fully inserted into the lock, the different levels of the blades will look exactly like the correct key - it's like a skeleton key for tubular locks.

Tubular locks are high-security locks designed to make picking difficult. The pins are set in a circle with the key being a tube-like item with cuts around the outside. Comes with a Decoder key so you can have a new key cut once picked.
These premium tubular picks set the standard for tools that make picking these locks easy and quick. They are almost as simple to use as a key!
7-, 8-, and 10-pin tubular locks all have the same keyway size, just a different number of pins. However, because of the different spacing of the pins, you require a different pick for each pin quantity.
THANKS FOR COMING TO LOCKPICKMALL
WRITE YOUR OWN REVIEW
YOU'RE REVIEWING: Lock Pick Decoder Key 10 Pin Tubular
HOW DO YOU RATE THIS PRODUCT?
---
Yao

06 May 2022

Works as expected

Works as expected, shipped in time and wrapped nicely. A good product for its price.

Brent

25 Apr 2022

I am beyond happy with this purchase! The only regret I have is that I should have done it sooner.

Colby

15 Apr 2022

Great products, great prices

Excellent! A great source for for any of these related products.

Andre

13 Apr 2022

the quality worth the price

Best price on a highly recommended set. Thank you!

Lucius

09 Apr 2022

best lockpicking tool

Already pick several padlock and working...best things i ever used.

Thomas

31 Mar 2022

darkalcatraz

25 Mar 2022

fast delivery with good quality

fast delivery with good quality

Jimmy

18 Mar 2022

Good quality tool

The quality corresponds with the price

alain blanchette

14 Mar 2022

The Delivery is a little bit late!

The Delivery is a little bit late!