Lock Picking Cut Away 6 Pin Practice Padlock

16 reviews
$ 23.99
This weighty, solid padlock is ideal for training yourself to pick locks - it comes complete with 3 keys.

Size: 78mm x 50mm
Cut Away 6-Pin Practice Padlock for Lock Picking
This weighty, solid padlock is ideal for training yourself to pick locks - it comes complete with 3 keys.
Size: 78mm x 50mm
Give yourself insider knowledge on padlock picking with this delicious 6 pin cut-away padlock. Durable, tough and full of the sort of information you require, this
practice lock
is like having X-Ray eyes.
*Learn how pins work when a working key is inserted and turned
*Perfectly smooth rotation with high quality build and tactile feedback
*Watch the pins raising and lowering as the key rotates around the lock
The locking mechanism opens and closes responsively, smoothly and consistently every time. This is an excellent purchase for anyone looking to learn how to lock pick, or work out how padlocks work.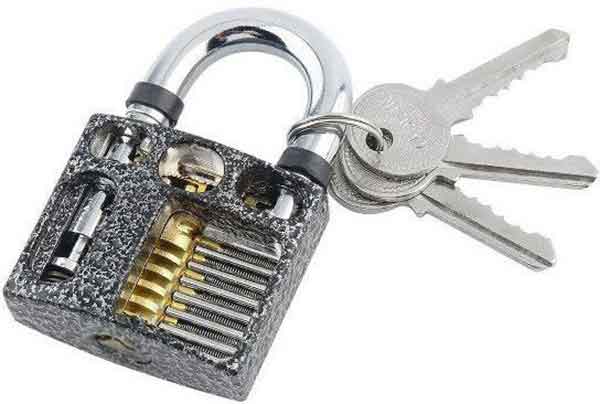 THANKS FOR COMING TO LOCKPICKMALL
WRITE YOUR OWN REVIEW
YOU'RE REVIEWING: Lock Picking Cut Away 6 Pin Practice Padlock
HOW DO YOU RATE THIS PRODUCT?
---
Danie

24 Aug 2023

Brilliant present

Got this for my husband... its kept him very entertained

Kingston

13 Jul 2022

I will recommed this site to my best friends

Very fast shipping good product.

Daniel K.

15 Jul 2021

This is going to be so much fun

It might be useful, too. But mostly it's a fun new skill to learn. The practice lock is a bit forgiving, but that's also a confidence-builder.

Adam P.

14 Jul 2021

Great training tool

This lock was great for a visual aide as well and a more "real world" feel compared to the acrylic locks

Jonathon R.

06 Jul 2021

Such a cool lock

Works great and was harder to pick than i first realized

vladimir l.

30 Jun 2021

Nice set

I am a beginner but this cutaway lock and picks allow me to really see and feel how much tension I need and visually how the pins respond. I have picked it several times now. I have yet to be able to pick a standard lock but it will happen soon

Tony P.

06 May 2021

Best Price for this Quality Cutaway Padlock!

Really cool cutaway padlock that functionally works very well! Great quality for the price & Lockpickmall had the best price I could find on the internet! I would HIGHLY RECOMMEND THIS CUTAWAY PADLOCK to all that are interested in it. To be fair, there were a few burrs that weren't removed after manufacturing, but for the price that is completely acceptable & understandable.rn

Robert L.

30 Mar 2021

Worth the purchase

I used to pick locks all the time when I was younger. I picked it up again recently because it's not a skill I want to lose. And it's a good exercise to keep the brain engaged. It's not really like riding a bike though. You get rusty. So I picked up a few different skeletonized or clear locks just to help myself get back into the groove. This one is great! It responds like a real look...it springs the cylinder back into place. It's heavy. And you get the satisfying click once (when) it opens. Oddly, I haven't managed to pick it yet. I figured it was a standard pin so raking should be easy enough but I just haven't gotten it by taking or picking yet. So I think this is going to be a great practice lock. Well worth the price. Well constructed. Relatively quick shipping. I can't say enough good things about Dangerfield's Lockpickmall. I know if I buy another single tool, set, or proactive lock, my wife is going to **** me. rnSide note; I started out with an old Majestic lock pick set some 25 years ago. I always thought it was as good as any other. But Dangerfield's lock pick sets are much better. They're smooth as glass, polished stainless steel. I can't believe the difference you feel in the old jagged high carbon steel picks versus the polished smooth stainless picks. Worth every penny.

Chris R.

03 Jan 2021

Better than the plastic practice locks but not perfect.

After purchasing two of these locks, one was perfect and functioned flawlessly, while the other needed a serious cleaning before use. It looked like overspray from the locks paint was all over the cylinder. Clearly a problem during manufacturing. The key wouldn't insert without force or giggling, but picked just fine. The quality is better than the plastic nylon locks, in that there's hardly any play, and they're much more sturdy whether your using top or bottom of the keyway tension. I can see these lasting a long time as long as they stay clean. Overall I would deff buy again or recommend for beginners getting into picking... I would just make sure the lock functions correctly before doing so. Also had a major delay in shipping due to holidays and Covid, but Lockpickmall stayed in contact with me in case any problems occured along the way. Great customer service. Thanks!

Mike G.

24 Nov 2020

Had what I needed, prices right.

Easy ordering. Good inventory. Shipped fast. Works great.